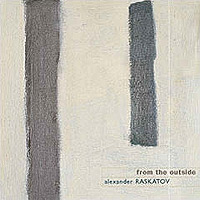 ALEXANDER RASKATOV

From The Outside
Performer
Quatuor Danel, Elena Vassilieva
NULL
CD
MDC 7825
20€ / order
About ALEXANDER RASKATOV

From The Outside
Alexander Raskatov FROM THE OUTSIDE
Born in Moscow on 9 March 1953, Alexander Raskatov completed his studies in composition at the Moscow conservatory in 1982, after four years of post-graduate study. A critical and prudent musician, he mostly composes oeuvres which require only a limited number of instrumentalists: Path for two cellos and harpsichord (1987); Sonata for viola and piano (1988); Consolation for piano (1989); Dolce far niente for cello and piano (1991); Kyrie Eleison for solo cello (1992); Credo in Byzantium for harpsichord or organ (1995). Other scores call for percussion instruments: Invitation to the Concert (1981); Reminiscences of the Alpine Rose (1982); Misteria brevis for piano and percussion instruments (1992). In his choice of texts, Raskatov exhibits a diversified aesthetic consciousness. A wide selection of various types of texts accompany his vocal work: ancient Japanese poems in Cantata of Court Songs (1976); The Old Testament in Urtext for soprano and ensemble (1992); a Stabat Mater for high voice and organ (1988); poems by V. Joukovski and E. Baratynsky, two poets from the first half of the XIXth century, in Circle of Songs I (1984); a text by Samuel Taylor Coleridge in Let there be Night (1989); words by futurist poet Velimir Khlebnikov in Graka- kha-ta (1988) for tenor, violin and percussion instruments, and in Ritual (1997) for voices and percussion; Shakespeare in Sonnet 66 for soprano and twelve instruments (1990); Antonin Artaud in Pas de deux for soprano and saxophone (1994); Hölderlin in Sonnenuntergangslieder (Sunset Songs, 1995) for mezzo-soprano accompanied by viola and piano; and, finally, Gebet, a prayer for voice and quartet (1996) based on the Hebrew Kaddish. Some scores call for larger ensembles, such as : Sentimental Sequences for thirteen instruments (1986); the Concerto for oboe and fifteen strings (1987); Xenia for chamber orchestra; Commentaries on a Vision for percussion and orchestra (1991); Miserere (1992), a long composition for viola, cello and chamber orchestra, dedicated to the memory of violinist Oleg Kagan who died in 1990; Eco perpetuo for bassoon and seven instruments (1993); Urlied for viola and strings (1995); and Blissful Music (1997) for cello and chamber orchestra.
Praised early on by Alfred Schnittke, Alexander Raskatov's talent has received increasing international recognition, which has been confirmed by several important awards. Musicians and ensembles such as the Hilliard Ensemble, Gidon Kremer, Sabine Meyer's Blaser Ensemble (wind ensemble) and Reinbert De Leeuw's Schoenberg Ensemble have all commissioned pieces. His music is dominated by a genuine concern for sonorous beauty. This sonorous beauty is sometimes delicate and even lazy (underlined by a touch of humour in Dolce far niente), or ironically expressive (the 1986 Sentimental
Sequences composition contains subtle, sometimes surprising quotes such as Massenet's Elegy). It can also have a more philosophical nature (the 1987 Concerto for oboe with its three movements – grass, water and birds – is somewhat of an ecological pantheistic hymn). His most recent aesthetic preoccupations concern what Raskatov calls "proto-music", a music that springs from the sources of life and from the things sacred, of which he seeks the foundation in Byzantine, synagogical or even older types of music. The three compositions on this disc illustrate this musical orientation.
Gebet is a Hebrew prayer, a Kaddish ode addressed to He who, according to Jewish tradition, cannot be called by name. Treated like a hymn, this page with its ascending melodic movement is reminiscent of several Jewish chants such as Leoni Meyer's famous Yigdal, which, in turn, was inspired by older traditional songs. This composition for voice and string quartet is dedicated to the memory of Raskatov's father. Although death in itself is not mentioned explicitly, the Kaddish has been used as a prayer of mourning since the XIIIth century.This prayer is traditionally recited by the eldest son.
Raskatov's quest for an original mode of expression, the original state of a discourse which unites song and the spoken word, meaning and cry, is elaborated more radically in Ritual, a monologue for voice and percussion.To this end, the composer uses one of the most peculiar figures of early XXth century Russian literature, Velimir Khlebnikov (1885-1922). Raskatov had already used one of Khlebnikov's texts for Graka- kha-ta. In contrast to the symbolism which was fashionable at the time, Khlebnikov links his name to futurism, in particular to the famous pamphlet 'Gifle au goût du public' (Blow to popular taste). Provocative character aside, his interrogations concerning language and the laws of the era incite him to experience new forms in the conviction that "the simple units of language, the sounds of the alphabet, are names for different aspects of space, the events of life". In this fashion, he conceives a "stellar alphabet" for the entire cosmos. His imaginary transmental world of language dislocation (the great beyond of intellect) where "the word itself is freed of its meaning and of its everyday use", is closely related to the context of the era.This context is as pictural, with Malevitch's "suprematism" or the compositions of Kandinsky, as it is linguistic, with the publication of Roman Jakobson's very first essay on "The Poet Language of Khlebnikov" (1919).The text that features in Ritual was taken from the collection of poems entitled Voice and Songs of the Street, written after the Russian Revolution of 1917. Still, its evocation of the people's fear of the czars and the rich make it a premonitory piece of writing. Every word is subjected to a treatment already suggested by Khlebnikov but developed, in this instance, by Raskatov who divides the original words into syllables, phonemes and new sounds. The vocal accompaniment consists of a limited number of instrumental interventions (a kettledrum, a watergong and a suspended gong that prolongs the highest overtones of the voice). Nevertheless, a megaphone superimposed on the kettledrum enables the composer to amplify and modify the voice.The vocal and instrumental interpretations are limited to one single executant, a dramatic soprano. This soprano creates a performance marked by a high degree of virtuosity. Thus, Raskatov explores a territory already covered by Luciano Berio and Cathy Berberian in 1966 with their "Sequenza III". This oeuvre was premiered on 31 May 1998 in the Cité de la Musique (Paris) by soprano Elena Vassilieva, to whom the composition was dedicated, at the occasion of a "Citéscopie" dedicated to voice.
With his 1994 Quartet "I Will See a Rose at the End of the Path", Alexander Raskatov chooses to explore a different field of contemporary composition. Indeed, the genre of the quartet for strings has undergone numerous metamorphoses in the course of the second half of the XXth century, both as a musical form and as an instrumental model. It is not surprising, therefore, that this evolution was accompanied by changes in designation: Book for quartet by Boulez (1949), ST4 (a stochastic piece for four strings) by Xenakis (1962), Sonatas (1967) by Ferneyhough, Archipel II (1968) by Boucourechliev or Douze Microludes (Twelve Microludes, 1977) by Kurtag.
Sofia Gubaidulina, to whom Raskatov has dedicated his oeuvre, is the creator of four quartets bearing traditional titles despite their formal liberty. Raskatov prefers to evoke his long creative road in a quartet consisting of no less than nine movements. Each movement constitutes a study of sonorities that favour ricochets, long chords and quarter tones. Prayer or wordless ritual, this delicate music with its often repeated incantations, encircles the stellar sparkle of silence with its sonorous raising of the voice. Commissioned by the Quatuor Danel and the Gele Zaal in Ghent where it was created, this score was awarded the Composition Prize at the 1998 Easter Festival in Salzburg, with G.Kurtag as chairman of the jury.
Frans C.Lemaire