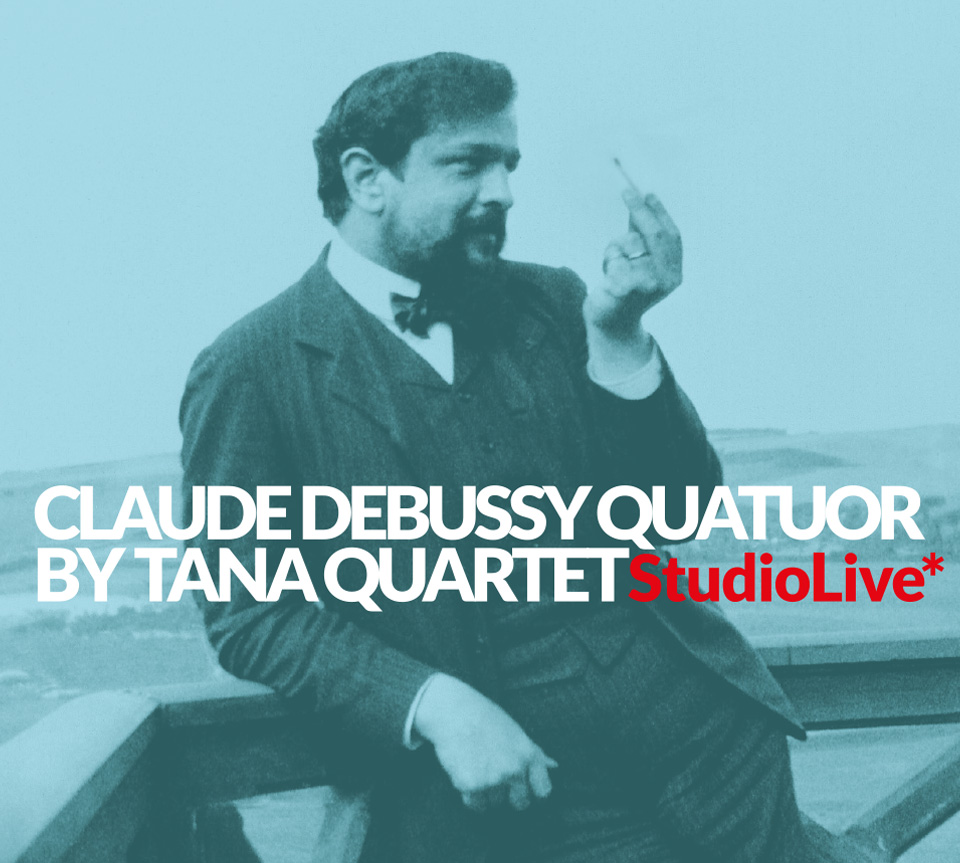 CLAUDE DEBUSSY StudioLive*

QUATUOR
Performer
TANA QUARTET
CD
MDC 7884SL
16€ / order
About CLAUDE DEBUSSY StudioLive*

QUATUOR
CLAUDE DEBUSSY STRING QUARTET in G minor, Op. 10
Animé et très décidé
Assez vif et bien rythmé
Andantino, doucement expressif
Très modéré – En animant peu à peu – Très mouvementé et avec passion
Claude Debussy wrote his String Quartet in G minor, L 85, Op. 10 in 1893 when he was 31years old. Debussy's only quartet was premiered on 29 December 1893 by the Ysaÿe Quartet at the Société Nationale de Paris.
Claude Debussy a composé son quatuor à cordes en sol mineur opus 10 en 1893 à l'âge de 31 ans. C'est son seul quatuor à cordes.Le quatuor a été créé le 29 décembre 1893 par le Quatuor Ysaÿe à la Société Nationale de Paris.
StudioLive*
Megadisc Classics, pursuing its ambitious explorations, is now proposing a new collection: StudioLive*.
These recordings, made in a single take with no manipulation, preserve the authenticity and presence of the musical gesture in a natural acoustic for the subtle nuances of the string quartet.
For the launching of StudioLive* and the first release, the Tana Quartet and Megadisc Classics offer you the final version of Claude Debussy's quartet to celebrate the Claude Debussy Centennial.
Always recorded in pure stereo with two microphones and High End Audio equipment: Nagra microphone preamplifier and converter, Absolue Creation cables and Nodal Audio power distributor. 'Sit down in front of your hi-fi system. You are invited to a private concert by the Tana Quartet, which is right before you.'
Megadisc Classics poursuit ses ambitieuses explorations et propose une nouvelle collection StudioLive*.
Des enregistrements d'un seul souffle, sans manipulation, préservant l'authenticité et la présence du geste musical dans l'espace d'une acoustique naturelle aux nuances subtiles du quatuor à cordes.
Pour le lancement et la première édition StudioLive* , le Tana Quartet et Megadisc Classics vous offre l'ultime version du quatuor de Claude Debussy pour fêter le centenaire Claude Debussy.
Toujours enregistré en pure stéréophonie avec deux micros et des équipements audio de haut de gamme, préamplificateur micro et convertisseur stéréo Nagra, câbles Absolue Création et blocs secteur Nodal Audio.
"Installez-vous devant votre chaîne hi-fi, c'est une invitation à un concert privé, le Tana Quartet est en place devant vous."
EQUIPEMENT ON THE RECORDING
Nagra:EMP 2-channel Microphone Preamplifer, SEVEN 2-channel Recorder, CDC Player with ACPS, VFS VIbration Free System.
Absolue Créations: UL-TIM Microphone Cables, Versailles Power Cord, Pro TRIO XX cables, Analog Interconnect XLR serie UL-TIM, Digital AES-EBU TIM Reference, UL-TIM Speaker Cables.
Nodal Audio: LMP-1 Symphonie Power Distributor, LMP-2 Sonate Power Distributo, P0 Prélude Cord.