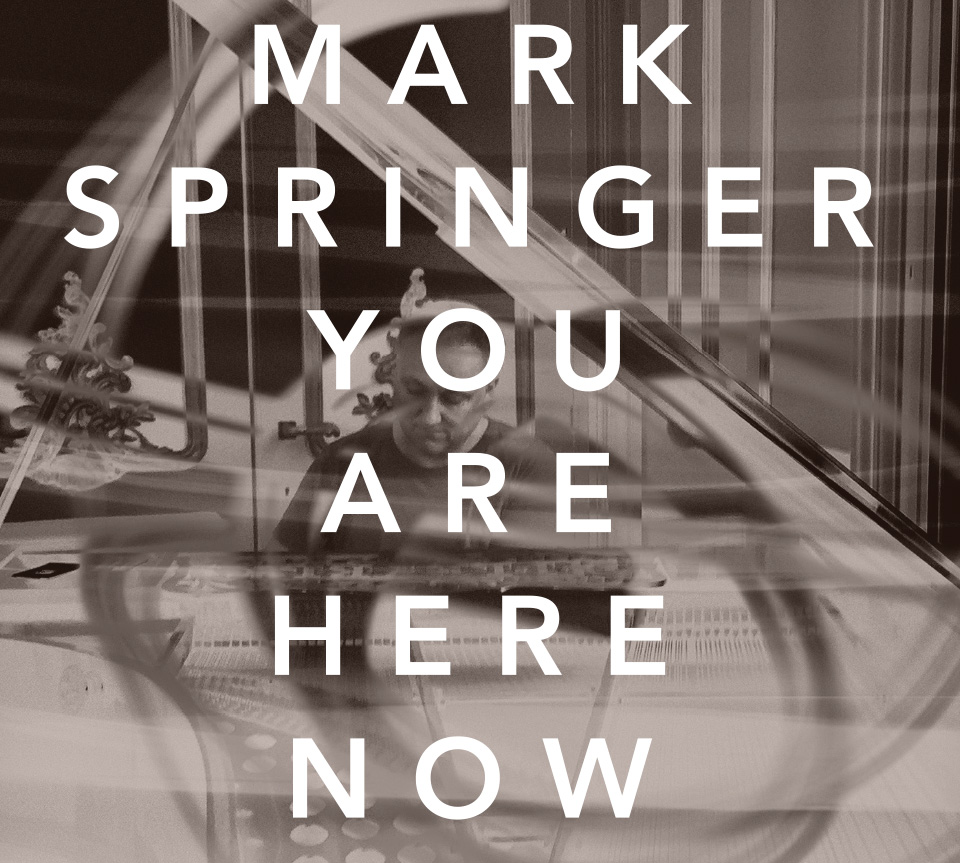 MARK SPRINGER

You are here now
Performer
Mark Springer
CD
MDC 7885
20€ / order
La Cupola del Pilastro in Bologna in the Spring of 2018 as part of the Contesto Series of the Art Foundation Compagnia Laminarie.
The Contesto Series was very interesting for me in that it related to my own ideas and experiences around the risks I enjoy taking in live performance or in a recording situation. That the music I make on each occasion is site specific. Whenever I arrive at a concert hall or theatre, there will be an instrument there that I have never played before, in an acoustic environment that will be different each time. This unique situation involves the country, the particular venue, the nature of the piano, the atmosphere surrounding the event and, most especially, the audience present or, in contrast, the mood of an intimate recording with just a few people. In Bologna, I had the enjoyment of a three day recording session followed by a performance on the evening of the last day.
About MARK SPRINGER

You are here now
My four Piano Solos came out of a three day recording and concert cycle at the Teatro DOM
La Cupola del Pilastro in Bologna in the Spring of 2018 as part of the Contesto Series of the Art Foundation Compagnia Laminarie.
The Contesto Series was very interesting for me in that it related to my own ideas and experiences around the risks I enjoy taking in live performance or in a recording situation. That the music I make on each occasion is site specific. Whenever I arrive at a concert hall or theatre, there will be an instrument there that I have never played before, in an acoustic environment that will be different each time. This unique situation involves the country, the particular venue, the nature of the piano, the atmosphere surrounding the event and, most especially, the audience present or, in contrast, the mood of an intimate recording with just a few people. In Bologna, I had the enjoyment of a three day recording session followed by a performance on the evening of the last day. The recording process starts immediately as a key part of the risk, as I want to document my initial exploration of the piano and the space, and the pleasure of discovering new work.
Through my exploration of improvisation and composition, I have sought out a variety of ways to make musical structures while keeping it a mysterious process. Treading a line between more traditional piano techniques while pushing the medium. For me, this is part of the excitement of playing solo in that there is nowhere to hide and nothing to mask the intensity of that one-to-one (to many) moment of communication with the audience.
This approach is something that I like when performing my written work as well, as I will play it differently each time and I'm always looking for another way to make a phrase or to completely change the notes on the page.
This can be quite a challenge to my fellow players as, on occasions, I will push this risk-taking too far for comfort. In my work, I'm always aiming for this sense of disruption of the sound so, no matter what the context, I will try not to settle and push further.
I started this process as a young pianist and, also, when I was in my first group RIP RIG AND PANIC which featured, amongst others, the great trumpeter Don Cherry.
Playing with Don, I began to try to experiment with finding a way to use clusters of notes and intervals in order to attempt to play between the fixed notes on the piano to make the effects more like that of a trumpet, when it is gliding and moving in between regular intervals and playing half notes and quarter notes.
The Amiata Piano Sextet is a chamber piece in six movements.
It is inspired by an area of land in Tuscany with the extinct volcano of Monte Amiata, which was last active over one hundred and fifty thousand years ago. It was recorded at the Teatro di Castagnoli in Scansano during the Morellino Classica Festival in Tuscany in August 2018.
The Amiata itself represents an area of great natural force and beauty with a palpable sense of history.
The first movement is about the land before any traces of humanity, when it was in a primordial state.
In the Second movement, the piece develops to a point where we see the first human presences.
This is followed by the third movement, representing a castle, the Castello di Potentino which is to be found about half way up the mountain and sits like a fortress overlooking the wild mountain's surrounding lands.
This movement is set during a war and represents humans in their destructive mode and the life
at the castle during this period.
I have included a Waltz time dance in 3/4 representing a moment of jollity; a respite from an otherwise turbulent epoch.
The fourth movement further explores the land and its nature and how it continues to evolve over time.
The fifth movement begins to describe the fractured forces of nature as they react to environmental shifts. This leads to our final movement which is paired down to a duet for piano and double bass.
This movement is split into two parts, each half very similar but played with subtle differences. The two instruments create a change from the ensemble sound of the sextet and I now imagine a place that has lost all traces of life and there is no one left to bear witness to its existence. Almost like the music is the only thing that is playing itself out in an impossible world devoid of all human presence.
Mark Springer
Bonjour Mark, tell me a story …
I was born in England to a German mother and Hungarian Polish father.
I moved to Germany when I was 6 months old.
I lived in Germany and also in Los Angeles, where Michael, my father, was a Stills Photographer for the Hollywood Film Studios.
I still have a group of classic black and white photographs taken of the actors of that time who became very well known in later years, captured by my father at the start of their careers.
We stayed in the States until I was 9 and then moved to Bristol in the UK.
My father Michael Springer was also a painter who had his paintings exhibited at the Royal Academy West of England Galleries and he set up a photographic studio with my mother, Christel, who was a photographer as well.
German was my first language and I also studied music from a very young age starting around 5 years old; at first in Germany then in the UK.
I studied all the major Classical and Baroque composers as a child and I would often change the notes I was playing and experiment and look for my own ways to add something to the work I was studying.
My first instrument was the piano and my second was the clarinet. I played clarinet in the Avon Youth Jazz Orchestra in Bristol as a young musician and this started to give me an insight into Jazz as well as classical structures.
My Father was a keen amateur violinist and as he was a member of a music club, he would bring back fabulous and unusual recordings that I would listen to with him, such as Olivier Messiaen's Turangalîla Symphony – a radical piece in its day.
This really started to open my eyes to new sounds.
At this time, I was also listening to the jazz pianist Oscar Peterson and I developed an interest in jazz improvisation and started thinking about how I could harness my classical studies and use the techniques I was exploring to compose new work and, also to start to freely express myself on the piano through building improvisational structures.
Growing up in Bristol at that time in the 1960/70s there was not the kind of music scene where I could study the improvising techniques I was interested in developing so I spent musch of my time – lived! – in a record shop called Revolver Records.
This has now become a legendary record store but then for me it was where I could listen, explore and buy all the latest contemporary albums from a rich variety of artists.
Many of the bands to come out of Bristol, like Massive Attack, started out in Revolver Records too, also listening to the wealth of sounds!
I started to play these Jazz and modern music albums to my then piano teacher, Miss Peggy King.
She helped me to analyse the music on the vinyl and we surmised that there was a massive amount of classical technique and composition going into the work of some of my favourite jazz pianists from Cecil Taylor through to McCoy Tyner and Oscar Peterson.
Miss P King (music in a name!) would often say that there were Beethoven and Rachmaninov style structures in the playing of these pianist/composers.
This was my first real study of music that inspired me and where I started to think that both compositional structure and improvisation could become fluidly worked together to make stronger elements in my own music.
I was around 13 when I first listened to OLÉ by John Coltrane. This was a fabulous way to experience an ensemble improvising and communicating as a whole unit.
This, I think, was an inspiration for me in considering the idea of not exclusively playing solo but also, at some point, in wanting to form my own group.
I played publicly around Bristol from the age of 16 and I would turn up at any venue that had a piano and play it!
At this time I made further influential studies with a fabulous concert pianist and teacher called Mantle Childe.
He had been a Professor for 30 years at the Guildhall School of Music in London and was now teaching certain students in Bristol.
Mantle Childe was also a classical concert pianist and his example as a player and teacher had a strong influence on me.
He would sit down at the piano and play the most dazzling runs and his fingers seemed to barely leave the surface of the piano keys. This was mesmerising to watch and I learnt the most from just watching him play.
He was taught by a teacher who had learnt directly from the Franz Liszt school and descendants of Franz Liszt himself.
The techniques I studied with him then taught me the art of making big sounds from the shoulders and playing with speed using the absolute minimum of energy and movement.
Around this time I started to play with other groups.
One of these was a very well-known group called The Pop Group that were signed to Warner Brothers at that time.
In Mark Stewart, they had a formidable singer and frontman, whose original lyrics still have a powerful political resonance today.
The Pop group also featured Gareth Sager on guitar and Bruce Smith on drums.
The Pop Group was very keen on my playing and asked me to play as a solo pianist before they went on stage at several of their concerts .
When The Pop Group broke up I suggested to Gareth Sager, the guitarist, that we start a new group and I said we should name it Rip Rig and Panic after a very well-known recording by the great jazz musician Roland Kirk.
I loved the meaning that Roland Kirk attached to the name Rip Rig and Panic.
The Rip was short for Rip Van Winkle who was asleep for 100 years! This Roland Kirk said was the state of the current music listener!
Rig stood for Rigor Mortis – a deadened response to the world of art and Panic was what happened when people were exposed to music they did not understand.
I love the meaning of this title and thought it would be a great name for our group, as I wanted to confound the current expectations of how a group should be and the music that was being made. My musical aim with this group was to create a band that had the ability to combine virtuoso playing with songs that could appeal to a pop, punk and classical audience all at the same time.
It was important for me to challenge the received ideas that UK music had at that time as it was a very conservative world musically in the 1980s so I was intent on making a new impact.
Why not play at the Bracknell Jazz festival and the Royal Festival Hall , also at the Glastonbury popular music festival as well and not be limited by genre and category!
At this time, we recorded a Demo and on the strength of this, we were signed to Virgin Records.
It was around this period that we met the singer Neneh Cherry (who continues to have a major solo career) and we asked her to join Rip Rig and Panic full time.
Our first Album was called God and it was released in 1980 to great critical acclaim and we started to play concerts worldwide and gained a very broad, loyal, global following.
We performed live on several occasions on the now legendary and very influential BBC Radio1 programme, the John Peel Sessions.
John Peel championed all the most exciting music at that time and was a real musical aficionado.
I had become friends with the Velvet Underground singer Nico and on one of the John Peel Sessions we performed a piece that we had written together which is currently available on the CD CIRCA RIP RIG AND PANIC
which was released in 2018 on the Exit label.
Our second album I Am Cold featured Neneh Cherry's father the legendary modern jazz trumpet innovator, Don Cherry.
We toured extensively with Don Cherry including around Europe and Japan.
The experience of being able to play live over many concerts and recordings had a profound effect on my playing and pushed my technique more and more into the spaces and places that I was aiming to create.
We also had a wealth of other musicians who we would continually invite to play live with the group and playing with fabulous musicians like Don Cherry, David Defries and Louis Moholo strengthened my ideas around developing new ways to play the piano.
I started to write and arrange music for very large ensembles at this time, I enjoyed the range of writing for one and then anything up to 20 musicians on stage.
Under the parabola roof at the Commonwealth Institute in London (now the Design Museum) I launched these pieces up to the rafters on a night of Springer concert creations!
Alongside my group, I always continued to write, perform and record my own individual work as well and so it was the bedrock of my essential creative energies. After 3 Albums and 7 singles I felt that I had taken things musically as far as I could go within this group context and Rip Rig and Panic was disbanded in 1983.
I recorded my first solo piano album 'PIANO' on Illuminated Records with a great response from the reviews and fans. It was as a direct response to my experiences of travelling through the Amazon Rain Forest. Subsequently, I signed again to Virgin Records as solo artist.
I was now starting to write a variety of orchestral and chamber works including a piano and string trio called View from the 21st Floor, inspired by my time high above the sprawl of the Golborn road in Trellick Tower – the mighty monolith by architect Erno Goldfinger – plus a Chamber Piece for 9 instruments including strings, brass and woodwind, titled Air On A Pollen (a play on the name, Apollonaire whose poetry inspired me).
I recorded a new CD for Virgin which was music for piano and viola called Swans and Turtles, encompassing the heights and depths of life, named after a poem by the English Metaphysical poet Andrew Marvel.
The combination of structures and freedom began ever more to become a part of my musical language.
I recorded my second CD for Virgin as a soloist.
This was called MENU and was a double length CD of solo piano. This CD drew comparisons with Composers as diverse as Chopin and Philip Glass.
Again the music on Menu was structured but also incorporated spontaneous improvisations as part of that structure.
I was, at this time, continuing to compose more music for other players including 2 CDS of string quartets, piano quintets and music for piano, saxophone and tabla.
I collaborated with the conceptual artist Damian Hirst on a new opera called called Agongo.
This was the first ever 'Opera Installation' and
Hirst designed the sets for the piece and it premiered at the Edinburgh Festival where an unsettling atmosphere of the music and house rats living amongst a giant cage suspended from the roof created a memorable art piece – to our excitement it was very well received and much lauded by the press.
I was enjoying writing for a variety of art works and composed music for film and television including writer Hanif Kureshi's directorial debut London Kills Me and the Granada television series of Daniel Defoe's, Moll Flanders.
My interest in music and film extended to a piece for the BBC about the Cold War and Nuclear secrets called The Fall Out Guy which featured the fabulous trumpeter David de Fries one time member of Chris McGregors legendary group Brotherhood of Breath.
Although still revelling in the freedoms of the solo artist I did choose certain projects that excited me and I worked with the composer Gavin Bryers on a play at the Leicester Haymarket theatre called The Traveller written by Jean Claude van Itallie .
I wrote the music and Bryers produced the soundtrack in the Haymarket theatre where he was the Composer in Residence at that time.
The dancer and choreographer, Gabby Agis asked me to write music for a series of performances at the Riverside Studios in Hammersmith, London. This work also involved my spontaneously composing with the dancers in real time on stage .
It was a very unusual piece and well received by the audience and press alike.
In 1999, I decided to set up my own label as there was a lot of new work that I was composing that I felt needed to be recorded and released at my own rate and requirements.
The label is called EXIT and my co director of Exit is the artist and film maker Sarah Killery, who came up with the name Exit as it is a vehicle for releasing unfettered experimental music out to the world!
The work on this new label has been consistently daring and experimental with, of course, an emphasis on powerful pianistic excursions into new territories.
It is very gratifying that the recordings have received great reviews in many countries and I am continually recording and performing my new works in Europe and Japan. I currently have over twenty CDs recorded and released on Virgin Records and the Exit label.
In 2017, all the Rip Rig and Panic albums were re-released in the U.K. and Japan on the label CHERRY RED with extra material added and lavishly produced CD booklets included.
Having moved away from London, I now live in England and Italy; in both countries, amongst nature in the countryside. In the UK, it is the Berkshire Downs where I have my piano and a studio. I am a painter as well – mainly in oils – with a focus on heads – my own – figures and, of course, landscape.
I paint and compose in these natural settings and we have incorporated my paintings into the Exit CD artwork too.
My days consist of playing and composing with my constant need to work on piano recordings and live performances.
In 2019, I will have a new opera opening in London called Army of Lovers with a libretto by the extraordinary novelist David Flusfeder. This all male voice production will be at The Playground Theatre in London. Before this, I have a song cycle for piano and soprano premiering in Italy in August, with words by the English poet Alyson Hallett.
I have been recording a new work for piano and double bass which combines written structures with improvisation to be released next year.
I have a new CD of pieces for 1 piano, 2 pianists, 4 hands featuring the inspired Italian concert pianist Pietro Bonfilio, known for his interpretations of the classic Russian repertoire, playing along side me.
This CD will contain the recording of my opera, Army of Lovers and includes the great Counter Tenor, Derek Lee Ragin, famous for his glorious voice and performing with Jessie Norman, among other sublime voices.
My musical inspirations are many; from the counterpoint and fugal writing of J S Bach through to the romantic repertoire of Schumann and Chopin and Schubert – (One of my current projects is to record Schubert's impromptus for a planned release in 2021) – also Eric Satie's spareness of structure appeals to me and the impressionistic and sometimes radicals effects of Debussy and Ravel.
I love Chopin's approach to making each piano piece go beyond what was possible technically in his time. He always wanted to make the piano do new things. This resonates with me and has been a spur to my own piano experiments.
I will always love the freestyle approach of jazz musicians such as Eric Dolphy and Cecil Taylor.
The great jazz composer Duke Ellington once said 'you need all the knowledge of the conservatoire but with an ear to the streets'
This statement definitely rings true to me.
… Merci Mark