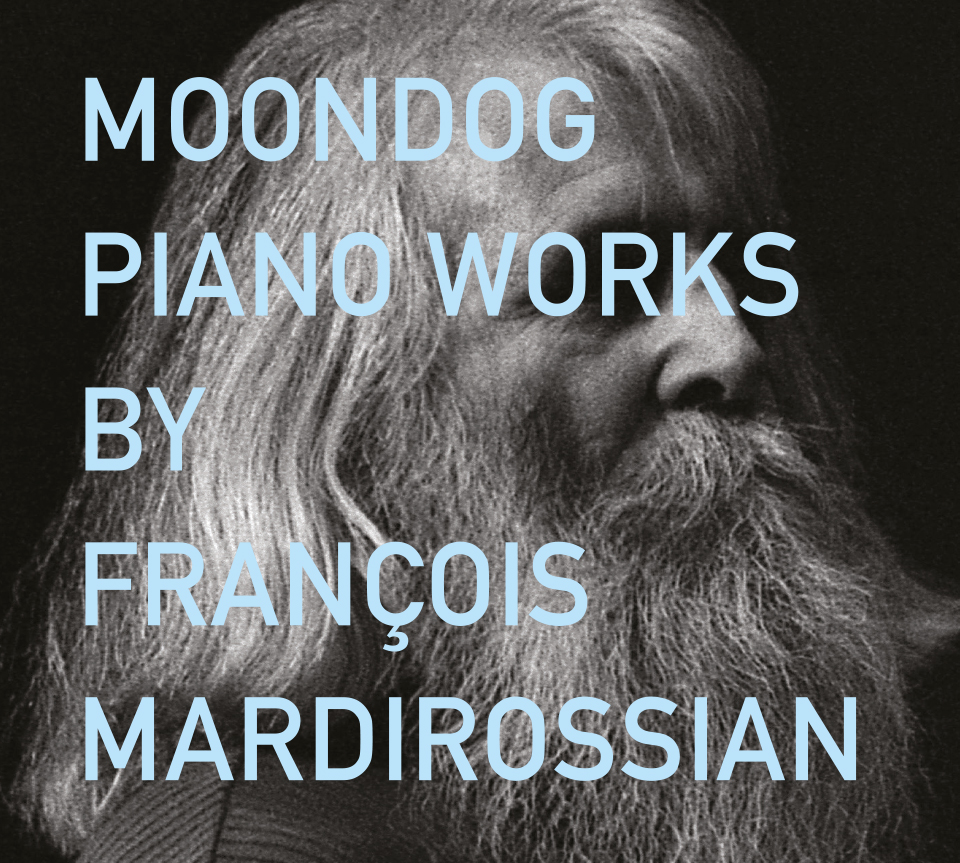 MOONDOG

CD
MDC 7887
20€ / order
About MOONDOG

French
Megadisc Classics : Moondog était un hippie ou un beatnik ?
Amaury Cornut: À 16 ans, après avoir perdu la vue en ramassant une amorce de dynamite le long d'une ligne de chemin de fer, il s'est laissé pousser une barbe et les cheveux qu'il ne coupera qu'en de rares occasions. Avant d'écrire de la musique il écrivait déjà des poèmes très courts, des sortes de haïkus, des distiques, souvent humoristiques, satiriques ou mélancolique, parfois les trois à la fois. Moondog malicieux dira plus tard, "j'étais un beatnik avant les beatniks".
François Mardirossian : Moondog était un hobo1 musicien ; il a été sans domicile fixe durant un certain temps et tentait par tous les moyens de vivre grâce à sa musique. Comme aurait dit Kerouac, c'était un clochard céleste ! Il sautait dans des trains pour rencontrer Bach et au retour il filait écouter Charlie "Bird" Parker et Benny Goodman. Entre-temps il était logé chez Philip Glass, écoutait Duke Ellington et rencontrait Leonard Bernstein et Arturo Toscanini tout en écoutant les répétitions du Philharmonique de New-York.
1 Aux États-Unis, le terme hobo désigne un sans domicile fixe se déplaçant de ville en ville, le plus souvent en se cachant dans des trains de marchandises.
MDC : Moondog, un clochard de luxe ?
AC : Un clochard qui savait s'entourer. Dès 1943, à peine arrivé à New York, Moondog fréquente les répétitions de l'Orchestre Philharmonique au Carnegie Hall. Là, Artur Rodziński, le directeur artistique d'alors, hallucine et le prend pour la réincarnation du Christ, il fait de lui la mascotte de l'orchestre pendant trois ans. Il l'aidera du mieux qu'il pourra en le logeant durant les nuits new-yorkaises les plus froides, en lui donnant des vêtements et de la nourriture. Plus tard il signera pour deux albums avec Columbia ! Même si le premier des deux disques est un véritable succès, Moondog continuera de mener une existence parfaitement marginale.
FM : Paradoxalement, sa tenue extravagante avec son casque à cornes lui a fermé des portes mais a fait beaucoup pour sa réputation également. Le mythe qui persiste encore aujourd'hui du casque à cornes des vikings l'a fasciné longtemps avant de définitivement l'enlever en découvrant que c'était une légende.
MDC : Et ce nom ?
AC : Il lui vient de son enfance, de sa chienne, Lindy, "qui hurlait à la lune plus qu'aucun autre chien" selon lui. En fait, Moondog est le titre de sa toute première mélodie, composée lors d'un voyage dans la campagne américaine après qu'il eut été sommé de quitter des répétitions de l'Orchestre Philharmonique de New York à moins qu'il ne change d'accoutrement ce qui évidemment n'était pas du tout son intention. À son retour à New York il décide de faire de "Moondog" son nom d'artiste.
FM : Ses hurlements se sont propagés dans le monde entier… et pour la petite histoire, un producteur de radio s'était approprié ce nom et le vrai Moondog lui fit un procès qu'il gagna grâce aux soutiens de personnalités musicales telles que Igor Stravinsky, Arturo Toscanini et Benny Goodman. Qui de mieux pour se faire défendre ?
MDC : Moondog, Louis Hardin, un visage et des yeux qui ne fixent pas…
AC : Un aveugle visionnaire, qui a imaginé une "œuvre-monde", toute en musique et en poésie et dont la figure tutélaire plane au-dessus de bien des créateurs des XXème et XXIème siècles.
FM : Sans regard, il a attiré les regards du monde entier d'abord sur sa personne, puis très rapidement sur sa musique. C'est d'ailleurs par ce même chemin que je suis tombé sur Moondog. Dans une librairie bruxelloise, dans le rayon musical je suis tombé sur le livre d'Amaury2 et en lisant le dos de couverture et en voyant les noms de Philip Glass, Charlie Parker et Janis Joplin je me suis dit qu'il fallait que j'achète ce livre pour en savoir plus. Je l'ai lu d'une traite sans prendre une minute pour écouter sa musique sur internet ou en disque. Une fois le livre lu j'étais plus que curieux d'entendre la musique de ce personnage si particulier. Je découvrais une musique tout aussi fascinante que sa vie, voire même plus. Pas facile à faire !
2 Moondog aux Éditions Le Mot et le Reste paru en 2014.
MDC : Repris par de nombreux musiciens actuels et DJ, vous nous offrez un disque académique, très sérieux ?
FM : C'est une musique sérieuse avec la même démarche des plus grands qu'il admirait… il se voulait un compositeur "classique" comme Bach, Beethoven, Brahms et tous les autres et cela le rend autant touchant que sérieux. La discographie sur Moondog n'est pas encore très grande d'un point de vue pianistique même s'il existe déjà de belles réalisations notamment de Dominique Ponty, qui l'a bien connu et qui le joue merveilleusement. Pour ma part j'ai voulu montrer les différentes facettes et esthétiques de la musique de Moondog : classique, jazz, contrepoint, danses, minimalisme, retour au passé et à la forme modale, hommage aux musiques des Indiens d'Amérique du Nord etc…
AC : Ce qu'il y a de bien avec le travail de François ici, c'est que pour la toute première fois un disque est réalisé en étant à la fois extrêmement fidèle à la lettre et exempt de tout affect vis-à-vis du compositeur. Les partitions de piano y sont interprétées de manière classique et avec le respect dû à ce Monsieur qu'était Moondog et qui pendant 50 ans a couché sur le papier la musique qu'il avait en tête. Pour autant, François n'a pas côtoyé Moondog de son vivant comme il l'explique plus haut. Pour la première fois à ma connaissance il y a donc cette vraie, belle et sincère démarche d'interprétation, qui fait actuellement cruellement défaut dans la discographie de Moondog en effet.
MDC : Moondog est un compositeur classique d'une "autre" époque ?
FM : Un homme égaré dans toutes les époques. Il est à la fois rétrograde et précurseur. Peu de compositeurs peuvent se targuer de cette double étiquette. Moondog n'appartient pas à une époque, il est une époque mélangée à lui tout seul. Inclassable, iconoclaste et charismatique. Sa musique plaît autant aux puristes classiques qu'au grand public et celui de la pop culture mais – et j'insiste sur le mais – en écrivant sa musique sur partition comme tout compositeur,il se démarque ainsi des musiciens de la music-pop qui fixent moins sur le papier. Il voulait que sa musique soit autant jouée qu'écoutée et transmise aux musiciens, pas seulement au public. D'ailleurs il était très exigeant sur l'interprétation de sa musique qui demande une grande rigueur rythmique alliée à une souplesse héritée du jazz.
AC : Il voulait être un compositeur classique mais il est né au siècle du sérialisme et du dodécaphonisme, des champs qu'il n'a jamais compris, qu'il s'est toujours refusé à explorer voire contre lesquels il a rédigé un court manifeste. Il voulait être classique mais empruntait des éléments à des musiques non classiques aux rythmes amérindiens, groove et swing du jazz des années 20 et 30. En fait, ça me fait penser à la figure de Janus, divinité aux deux visages, l'un regardant vers le passé et l'autre vers le futur, dieu des commencements et des fins, des choix, du passage et des portes. Moondog adorait Janus et ces quelques mots qui définissent le dieu romain peuvent calquer à la musique de Moondog. Dans mon livre j'écris qu'il est un pont entre les époques.
MDC : Amaury, parlez-nous donc de votre livre Moondog.
AC : Il s'agit d'une commande née de mes travaux de recherche que je publiais sur un blog à l'époque. Lesdits travaux étant parfaitement amateurs et réalisés sans notion de musicologie et hors de tout cadre universitaire et/ou académique dois-je préciser. J'ai cherché à offrir un premier ouvrage, très factuel qui retrace la trajectoire de ce formidable personnage. Nous voulions un livre assez court, qui puisse parler autant à des musicologues qu'à des passionné.es de musique comme moi. Le livre est complété par une discographie commentée pour naviguer au mieux dans cet univers assez hétéroclite. Aujourd'hui presque tout ce que je sais de la musique je le dois à mes travaux sur Moondog. Grâce à lui, ou aux gens que j'ai rencontré d'une manière ou d'une autre pour réaliser le livre ou mes projets, je me suis intéressé aux musiques anciennes, aux musiques extra-occidentales, à différents types de jazz, au minimalisme américain et évidemment aux musiques contemporaine qu'il n'aimait pas.
MDC : Phil Glass et Steve Reich ont dit que Moondog était l'inventeur du minimaliste. Entre jazz et classique, parlez nous donc des ponts inédits qu'il a su dresser ?
FM : Il a créé une musique tribale, germanique aux rythmiques américaines. Tout ça en même temps, sans frontière temporelle et esthétique. Moondog pourrait à lui seul en tant qu'homme et musicien résumer l'art musical du siècle passé. Je suis de plus en plus fasciné par sa vision musicale qui allait anticiper le travail de compositeurs comme Philip Glass, Steve Reich, John Adams et toute l'école minimaliste, ils lui doivent sans doute beaucoup… Malheureusement Moondog n'a pas eu la même chance et les mêmes opportunités que ces compositeurs.
AC : En un sens ce n'est pas si exagéré de dire qu'il a été le premier à faire du métissage musical. En tout cas il a fait de ce principe l'un des fers de lance de son travail en alliant canons et contrepoint empruntés aux musiques anciennes, une pulse qu'il rattachait autant aux premiers peuples qu'aux premiers jazz, et donc une forme de groove assez rare en classique, sans oublier l'aspect pop que tout cela revêt en raison d'un caractère résolument tonal.
MDC : Un grand séducteur magnétique ?
FM : Sa taille, sa présence, son allure de grand druide mystique, ses tenues, sa voix, sa capacité à dépasser son handicap… tout ça fascine autant les femmes que les hommes. Sa musique ajoutée à tout cela donne l'impression d'être en présence d'une légende, un être tellurique sans âge ni patrie. Je crois qu'il se voyait comme ça : un menhir intemporel voué à fasciner.
AC : Fasciner, voilà c'est le mot. On parle souvent d'influence, et c'est peut-être vrai mais ce terme est trop lourd d'autres sens. Moondog a captivé des génies de son temps, on en a cité certains tout au long de cet échange mais il y en a bien d'autres parmi lesquels on peut nommer des personnalités aussi diverses que Charles Mingus, Salvador Dalí, Marlon Brando, Andy Warhol, David Bowie, Elvis Costello, Stephan Eicher ou Philippe Starck. Tous ont croisé la route de Moondog, tous ont une histoire avec lui et le considéraient comme quelqu'un de brillant et de fascinant. Gageons qu'un jour on se souvienne de lui comme on se souvient d'eux, et que ce disque "Piano Works" contribue à cela.
MDC : François, comment avez-vous appréhendé cet enregistrement, qu'est-ce qui vous a poussé vers Moondog ?
FM : Comme je l'ai dit précédemment ma découverte de Moondog s'est faite par la lecture du livre d'Amaury mais je pense qu'on peut remonter plus loin cet amour que j'ai pour la musique contemporaine et particulièrement pour les compositeurs qu'on peut rattacher au minimalisme. Je me souviens très jeune à presque 11 ans, dans la discothèque de mon père je suis tombé sur un disque de Philip Glass avec son Concerto pour violon interprété par Gidon Kremer. Dois-je préciser que j'ignorais totalement l'existence de ces deux musiciens ? Le fait est que la pochette était très belle et j'ai eu l'idée de l'écouter. Et ce fut le coup de foudre qui ne s'est jamais arrêté. J'ai aimé de la première note jusqu'à la dernière de ce concerto – et encore aujourd'hui. J'ai eu le plaisir également de découvrir que Glass était mon contemporain, cela m'a enchanté de penser que je respirais le même air que cet homme qui créait cette musique. Depuis ce jour Philip Glass m'accompagne quotidiennement dans ma vie de musicien. Je le joue, je le fais découvrir à mes amis musiciens curieux ! Je l'enseigne également. De Glass je suis venu aux autres compositeurs de cette esthétique : Steve Reich, John Adams, Alexander Rabinovitch-Barakovsky, Alan Hovhaness, Arvo Pärt et je continue chaque jour d'en découvrir de plus en plus et ça me ravit. J'estime que c'est ma mission de musicien de transmettre les œuvres de mes contemporains. Jouer les grands classiques me procure évidemment une joie immense mais je délaisse Beethoven ou Bach pour ne citer qu'eux, à d'autres pour le moment car j'ai cette curiosité et cette passion pour notre musique d'aujourd'hui qui occupe tout mon temps. Quel bonheur d'interpréter une oeuvre fraichement composée, jamais jouée, ni enregistrée ! On se sent unique et l'initiateur d'une nouvelle tradition. Actuellement j'étudie le travail de Frédéric Lagnau, un fantastique compositeur minimaliste français très peu connu qui a composé une œuvre qui s'installe entre Steve Reich et Charles-Valentin Alkan.
MDC : Moondog a composé pas moins de 81 symphonies, 800 pièces dont 300 chansons… parlez-nous des pièces enregistrées sur ce disque ? FM : C'est un magnifique panel des différentes inspirations de Moondog. Une mosaïque de son esthétique, un condensé parfait pour découvrir Moondog, idéal pour ceux qui désirent aller plus loin dans ces œuvres. Moondog jette des ponts entre le temps et les compositeurs, l'écoute de ce disque en est le parfait exemple. On peut découvrir un morceau où Moondog vient serrer la main de Bach avec le Prélude and Fugue No. 1 in A Minor et avec le Canon No. 1 in C Major dans The Art of the Canon. Puis on entend des petites pièces très énergiques inspirées autant par le jazz comme dans le Jazz Book que par les rythmiques amérindiennes, voir Sea Horse. Et parfois des réminiscences de Chopin avec Mazurka, de Pinocchio dans Mood Montreux 2 et une danse dans Santa Fe qui nous invite dans un dancing un peu rétro.
MDC : Derrière cette diversité formelle et musicale se logent toujours des éléments qui nous rappellent que c'est Moondog compositeur et pas un autre ?
FM : Je peux donner quelques éléments pour identifier assez rapidement Moondog, comme l'utilisation des mesures impaires assez récurrentes au lieu des traditionnelles mesures à 3 temps ou 4. Moondog casse la structure en rajoutant 1 temps, il donne plus de vivacité aux rythmes et aux mélodies qui n'ont pas le temps de se "reposer" à la fin des temps, exemple typique dans Sea Horse et dans Rue Lette. Autre particularité, l'utilisation du piano de façon non conventionnelle, Moondog écrit souvent dans les suraigus du piano aux deux mains qui jouent exactement la même chose, ce qui donne un effet xylophone au piano, et pour adoucir ce côté percussif, vers la fin il ménage toujours un moment dans les graves plus conclusif et pianistique. Dans le même esprit, on peut remarquer bien souvent dans ses œuvres l'utilisation de la main gauche de façon très répétitive qui mime la percussion ou plus inouï encore s'inspirant des instruments médiévaux comme le cromorne3 pour effectuer une basse profonde et un grave type bourdon.
3 Hautbois baroque, genre de hautbois construit en plusieurs sections emboîtables, ancêtre du hautbois moderne.
MDC : Dans la musique de Moondog, je ressens et c'est très personnel, un élan pédagogique qui n'a pas à rougir face à Beethoven, Bach ou Mozart…
FM : Absolument, Music for Little Hands est un recueil idéal pour de jeunes pianistes curieux de rythmes et de sonorités qui les feront voyager et charmeront leurs oreilles.
AC : J'en profite pour signaler qu'une œuvre aussi vaste compte naturellement de très nombreuses compositions encore inédites. C'est le cas notamment de certaines des pièces du Troubadour Harp Book que joue François ici.
MDC : … et Bird's Lament ?
FM : Son tube à vrai dire. Il y a quelques années j'ai effectué cette transcription sans jamais oser la jouer. Lorsque le projet d'enregistrer "Piano Works" s'est présenté, j'ai rejoué et retravaillé Bird's Lament, cette pièce a naturellement trouvé sa place dans l'album. Moondog a composé Bird's Lament en hommage à Charlie Parker après sa mort. C'est parfait pour clore en beauté ce disque, une pièce aux évidentes influences jazz, médiévales avec la main gauche constante telle une chaconne avec des subtilités rythmiques sans y paraître.
AC : En fait Moondog lui-même aimait énormément ré-arranger ses oeuvres, souvent en fonction des interprètes qu'il avait sous la main, mais aussi parfois par plaisir je pense. Ainsi, peu de gens savent qu'à l'origine Bird's Lament est un quatuor à cordes, qui deviendra quelques années plus tard la version orchestrale qu'on connaît. Aveugle, Moondog se tournait naturellement vers le piano pour notamment tester le travail de ses copistes. Qui sait, peut-être ce morceau a déjà été joué au piano. Quoi qu'il en soit maintenant c'est chose faite !
MDC : Moondog, Louis Thomas Hardin Jr. est né le 26 mai 1916 à Marysville, Kansas, et mort le 8 septembre 1999 à Münster en Allemagne.
Paris, juin 2019
English
Megadisc Classics: Was Moondog a hippie or a beatnik?
Amaury Cornut: At the age of 16, having lost his sight after picking up a dynamite primer along a railroad track, he grew a beard and let his hair grow long, cutting it only on rare occasions. Before writing music, he was already writing very short poems, a sort of haikus, distiches, often humorous, satirical or melancholy, sometimes all three at the same time. A mischievous Moondog would later say "I was a beatnik before the beatniks".
François Mardirossian: Moondog was a hobo musician. Homeless for a certain time, he tried by all means to make a living from his music. As Kerouac would have said, he was a dharma bum! He hopped freight trains to go meet Bach and, on the way back, took off to listen to Charlie "Bird" Parker and Benny Goodman. Meanwhile, he was staying with Philip Glass, listening to Duke Ellington and meeting Leonard Bernstein and Arturo Toscanini when attending rehearsals of the New York Philharmonic.
MDC: So Moondog was a deluxe bum?
AC: A bum who knew how to surround himself. As of 1943, having barely arrived in New York, Moondog attended rehearsals of the Philharmonic at Carnegie Hall. There, Artur Rodziński, the artistic director at the time, hallucinated, taking him for the reincarnation of Christ, and made him the mascot of the orchestra for three years. He would help him as best he could by taking him in during the coldest New York nights and giving him clothing and food. Later on, [Moondog] would sign with Columbia for two albums! Even though the first of the two records was a real success, Moondog's life would continue to be absolutely marginal.
FM: Paradoxically, his extravagant dress with his horned helmet closed doors but also did much for his reputation. The myth that still persists to the present day about the horned Viking helmet fascinated a long time before taking it off for good, discovering that it was a legend.
MDC: And this name?
AC: It came to him from his childhood, from his dog Lindy, who "howled at the moon more than any other dog" according to him. In fact, Moondog is the title of his very first song, composed during a trip in the American countryside after he had been enjoined to leave rehearsals of the New York Philharmonic unless he changed his attire, which was obviously not at all his intention. Upon returning to New York, he decided to make "Moondog" his nom d'artiste.
FM: His howls spread all over the world… and, anecdotally, when a radio producer appropriated this name, the real Moondog sued, winning his lawsuit thanks to the support of musical personalities such as Igor Stravinsky, Arturo Toscanini and Benny Goodman. Who better for defending oneself?
MDC: Moondog, Louis Hardin, a face and eyes that do not stare…
AC: A blind visionary, who imagined a "world work", all in music and poetry and of which the tutelary figure hovers above many creators of the 20th and 21st centuries.
FM: Without regard, he drew attention from the whole world, first for his appearance then, quite quickly, for his music. Moreover, it was by this same path that I came across Moondog. It was in the music department of a Brussels bookstore that I happened upon Amaury's book1 . Reading the back cover and seeing the names of Philip Glass, Charlie Parker and Janis Joplin, I told myself I had to buy this book to learn more about him. I read it straight through without taking a minute to listen to his music on the internet or on record. Once I'd finished reading, I was more than curious to hear the music of
this highly peculiar character. I discovered music that was equally so!
1 Moondog (Editions Le Mot et le Reste, 2014).
MDC: Taken up by numerous current musicians and DJs, François, are you giving us a highly serious, academic record?
FM: This is serious music with the same approach as the greatest whom he admired… if he wanted to be a "classical" composer like Bach, Beethoven, Brahms and all the others, and that makes him as touching as serious. Moondog's discography is still not very large from a pianistic point of view, even though there are already fine realizations, in particular Dominique Ponty, who knew him well and plays him marvelously. As for me, I wanted to show the different facets and esthetics of Moondog's music: classical, jazz, counterpoint, dances, minimalism, return to the past and modal form, homage to the music of North American Indians, etc.
AC: What's good about François's work here is that, for the very first time, a record was made that is both extremely faithful to the letter and free of any affect vis-à-vis the composer. Here, the piano scores are performed classically and with the respect due to this Gentleman that Moondog was and who, for 50 years, wrote down the music he had in mind. For all that, François did not rub shoulders with Moondog during his lifetime, as he explained earlier. Thus, for the first time to my knowledge there is a true, beautiful and sincere interpretative approach, which currently is cruelly lacking in Moondog's discography.
MDC: Is Moondog a classical composer from "another" era?
FM: A man lost in all eras. He is both retrograde and a precursor. Few composers can boast this double label. Moondog does not belong to one era: he is a mixed era all in himself, unclassifiable, iconoclastic and charismatic. His music is enjoyed as much by classical purists as by the general public and pop culture, but – and I insist on the "but" – the fact of having wanted to set down his music in a score like every great composer distinguishes him from pop musicians who tend less to write down on paper. He wanted his music to be played as much as listened to and passed on to musicians, not only to the public. Furthermore, he was very demanding about the performance of his music, which requires great rhythmic rigor combined with a flexibility inherited from jazz. AC: He wanted to be a classical composer but was born in the century of serialism and dodecaphony, spheres he never understood and always refused to explore and against which he even wrote a short manifesto. He wanted to be classical but borrowed elements from non-classical musical styles with Amerindian rhythms, groove and swing of jazz from the 1920s and '30s. In fact, that makes me think of the figure of Janus, the two-faced divinity, one looking back to the past and the other towards the future, the god of beginnings and endings, of choices, of passage and doors. Moondog adored Janus, and these few words that define the Roman god can describe Moondog's music. In my book I write that he is a bridge between eras.
MDC: Amaury, tell us about your book Moondog.
AC: It was a commission stemming from my research work that I was publishing on a blog at the time. The aforementioned work being perfectly amateur and carried out with no notion of musicology and outside any university and/or academic framework, I should specify. I sought to offer a first, very factual book retracing the career of this fantastic character. We wanted a fairly short book that would speak to musicologists as much as to music lovers like me. The book is supplemented by a discography with commentary to best navigate in this rather heteroclite universe. Today, almost everything I know about music I owe to my work on Moondog. Thanks to him, or to the people I met one way or another to write the book or realize other projects, I became interested in early music, non-western music, different types of jazz, American minimalism, and, obviously, the contemporary music that he didn't like.
MDC: Phil Glass and Steve Reich have said that Moondog was the inventor of minimalism. So, tell us about the original bridges he managed to erect between jazz and classical.
FM: He created a tribal, Germanic music with American rhythmic patterns. All that at the same time as without temporal or esthetic boundaries. All by himself, as a man and musician, Moondog could sum up the musical art of the last century. I am increasingly fascinated by his musical vision, which was going to anticipate the work of composers such as Philip Glass, Steve Reich, John Adams and the whole minimalist school. They doubtless owe him a great deal… Unfortunately, Moondog didn't have the same chance, the same opportunities as those composers.
AC: In a sense it would not be an exaggeration to say that he was the first to do musical mixing. In any case, he made this principle one of the spearheads of his work by combining canons and counterpoint borrowed from early music, a beat that he attached as much to the first peoples as to the first jazz, and therefore a form of groove fairly rare in classical, not to mention the pop aspect that all that assumes owing to the resolutely tonal nature.
MDC: A great, magnetic charmer?
FM: His size, his presence, his look of a great mystical druid, his dress, his voice, his ability to overcome his handicap… all that fascinates men as well as women. Adding his music to all that gives the impression of being in the presence of a legend, a telluric being without age or homeland. I think he saw himself like that: a timeless menhir dedicated to fascinating.
AC: Fascinate: that's the word. We often talk about influence, and it is perhaps true but this term is too weighty with other meanings. Moondog captivated geniuses of his time – we have mentioned some of them throughout this exchange but there are many other amongst whom we can name personalities as diverse as Charles Mingus, Salvador Dalí, Marlon Brando, Andy Warhol, David Bowie, Elvis Costello, Stephan Eicher or Philippe Starck. All crossed Moondog's path, all of them had a history with him and considered him brilliant and fascinating. Let us wager that, one day, he will be remembered as they are remembered and that this record, "Piano Works", will contribute to that.
MDC: François, how did you apprehend this recording? What pushed you towards Moondog?
FM: As I said earlier, my discovery of Moondog came about from reading Amaury's book but I think we can go back further to my love for contemporary music and especially for composers who can be associated with minimalism. I remember when I was quite young, nearly 11, coming across in my father's record collection a record of Philip Glass with his Violin Concerto played by Gidon Kremer. Need I point out that I was totally unaware of the existence of those two musicians? The fact is that the jacket was quite lovely, and I thought of listening to it. And it was love at first hearing, a love that has never stopped. I loved from the first note to the last of this concerto – and still to the present day. I also had the pleasure of discovering that Glass was my contemporary, and it enchanted me to think that I breathed the same air as the man who created this music. Since that day, Philip Glass has accompanied me daily in my life as a musician. I play him and help musician friends who are curious to discover him! I also teach him. From Glass I have come to other composers of this esthetic: Steve Reich, John Adams, Alexander Rabinovitch-Barakovsky, Alan Hovhaness, Arvo Pärt, and I continue every day to discover more and more, and that delights me. I consider it my mission as a musician to transmit the works of my contemporaries. Playing the great classics obviously gives me immense joy, but for the time being I am leaving Beethoven or Bach, to mention only them, to others for I have this curiosity and this passion for today's music which takes up all my time. What a treat to interpret a newly composed work, never played or recorded! You feel unique and the initiator of a new tradition. Currently I'm studying the work of Frédéric Lagnau, a fantastic, little known French minimalist composer, who has composed an oeuvre somewhere between Steve Reich and Charles-Valentin Alkan.
MDC: Moondog composed no less than 81 symphonies, 800 pieces including 300 songs… Tell us about the pieces on this record?
FM: It's a magnificent sample of Moondog's different inspirations, a mosaic of his esthetic, a perfect digest for discovering Moondog, ideal for those who want to delve deeper into his works. Moondog throws bridges between time and composers, and listening to this record is the perfect example of that. You can discover a piece in which Moondog comes to shake hands with Bach in the Prelude and Fugue No. 1 in A Minor and the Canon No. 1 in C Major in The Art of the Canon, then hear very energetic little pieces inspired as much by jazz in Jazz Book as by Amerindian rhythmic patterns in Sea Horse. And sometimes reminiscences of Chopin in Mazurka, of Pinocchio in Mood Montreux 2, and a dance in Santa Fe, which invites us into a somewhat retro dance hall.
MDC: Behind this formal and musical diversity there are always elements reminding us that Moondog is the composer and no one else.
FM: I can give a few elements to identify Moondog fairly quickly, such as the fairly recurrent use of uneven time signatures instead of the traditional duple or common time. Moondog breaks the structure by adding a beat and giving more vivacity to the rhythms and melodies, which don't have time to "rest" at the end of the measure; typical examples in Sea Horse and Rue Lette. Another particularity is the unconventional use of the piano. Moondog often writes in the highest register of the piano for two hands playing exactly the same thing, which gives the piano a xylophone effect. To soften this percussive side, towards the end, he always arranges a more conclusive and pianistic moment in the lower register. In the same spirit, quite often you can notice in his works the use of the left hand in a very repetitive way that imitates percussion or, even more original, taking inspiration from medieval instruments such as the crumhorn2 to achieve a deep bass and sort of drone.
2 Baroque oboe, a kind of oboe in several sections that fit together, the ancestor of the modern oboe.
MDC: In Moondog's music, I feel – and this is very personal – a pedagogical élan that has nothing to be ashamed of facing Beethoven, Bach or Mozart…
FM: Absolutely. Music for Little Hands is an ideal collection for young pianists curious about rhythms and sonorities that will make them travel and charm their ears. This score is unpublished and has never been played or recorded.
AC: It should also be noted that such a vast body of work naturally includes quite a number of compositions as yet unpublished. This is the case, in particular, with certain pieces from the Troubadour Harp Book, which François plays here.
MDC: …and Bird's Lament?
FM: His biggest hit, to tell the truth. A few years ago I made this transcription without ever daring play it. When the project of recording "Piano Works" presented itself, I played Bird's Lament and reworked it, and it naturally found its place in the album. Moondog composed Bird's Lament in homage to Charlie Parker after his death. It's perfect for closing this record with a flourish, a piece with obvious jazz influences, medieval with the constant left hand like a chaconne with rhythmic subtleties without looking like one.
AC: In fact, Moondog himself enormously enjoyed rearranging his works, often according to the performers he had at hand, as well as, I think, sometimes just for the pleasure. Thus, few people know that Bird's Lament was originally a string quartet which, a few years later, would become the orchestral version that we know. Blind, Moondog naturally turned to the piano, in particular to test the work of his copyists. Who knows, maybe this piece has already been played on the piano. Regardless, it has now been done!
MDC: Moondog, Louis Thomas Hardin Jr. was born on May 26, 1916 in Marysville, Kansas, and died on September 8, 1999 in Münster, Germany.
Paris, June 2019