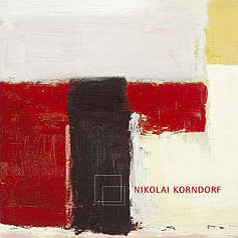 NIKOLAJ KORNDORF (1947-2001)

Nikolaj Korndorf
Performer
Patricia Kopatchinskaya, Alexander Ivashkin, Ivan Sokolov
CD
MDC 7817
20€ / order
About NIKOLAJ KORNDORF (1947-2001)

Nikolaj Korndorf
NIKOLAI SERGEYEVITSJ KORNDORF
was born in Moscow on 23 January 1947. After he completed his studies he was asked to teach at the Moscow Tchaikovsky Conservatory in 1972. His first 'adult' compositions (two symphonies, several concertos, an opera on The Feast during the Plague by Pushkin) exhibit an atonal postexpressionist style that he had abandoned by the late seventies. His return to tonality was confirmed in 1979 with Confessiones for contrabass and twelve wind instruments and with Yarilo (1981). The latter is an oeuvre for piano that evokes the luminous movements of the setting sun for close to half an hour. His interest was subsequently aroused by minimalist and repetitive structures based on diatonic motifs. His expressive palette was dominated by contemplative intimacy, the common denominator par excellence of so many composers from the second half of the twentieth century and Eastern European composers in particular. The titles translate this ritual character: Yes!!, ritual for three singers, chamber ensemble and tape (1982), Primitive Music (1981) for twelve saxophones and Let the Earth Bring Forth (1992) for chamber ensemble. These compositions are usually fairly long, more than twenty minutes for the most part, but certain works like the 1992 Quartet, Continuum (1991) for organ and live or pre-recorded percussion or Hymn III (1990) even pass the one-hour mark. Contrary to many compositions with very intimate expressive intentions (Gorecki, Kancheli, Silvestrov), Korndorf's work is marked by a good density of information in the instrumental texture. Minimalist and repetitive in its sphere of influence, this music is rather maximalist in its sonorous furnishings as the composer frequently resorts to compact and complex writing. Chamber music is represented in the composer's oeuvre by a Trio for strings (1986) composed as a tribute to Alfred Schnittke, a Trio with piano (1996) entitled Are you ready, Brother?, a Quartet (1992), a Quintet for brass instruments (1985), Lullaby (1984), a minimalist piece for two pianos, The Dance in Metal (1986) for percussion (a tribute to John Cage), Mozart-Variationen (1990) for string sextet, Con sordino (1984) for strings and harpsichord and, finally, a Passacaglia (1997) for solo cello. Among the oeuvres for orchestra, the 3rd Symphony (1985-1988), performed in Frankfurt in 1992, is a very ambitious work because of its strength (narrator, piano, male choir, children's choir, large orchestra) and its duration (ninety minutes). The inspiration is simultaneously religious (certain passages come close to the Orthodox plain chant and sometimes to the Gregorian chant), pagan or pantheistic (long rhythmic incantations) but also telluric in its grand sonorous displays. During the same period, Korndorf wrote three more Hymns for orchestra that are dominated by the same contemplative attitude. Hymn III, subtitled Hommage à G.Mahler, (1990) is not only tonal but is written without any chromatic raising or lowering whatsoever. The piece ends with a Greek text on the Apocalypse, which the composer recommends should be recited in the language of the country where the piece is being performed. In 1994, the chamber opera MR (1989) was staged in Munich. This composition is based on the sentimental epistolary relationship that developed between Marina Tsvetaïeva and Rainer Maria Rilke some months prior to the latter's death.
Korndorf was very active and wrote a new symphonic composition every year: Prologue (1992), Epilogue (1993), Victor (1994), and Underground Music (Symphony #4) in 1996. Like the 3rd Symphony, this piece combines very different sonorous climates: tropical sounds, romantic outpourings, rhythmic rituals. However, we are also treated to a surprising postmodernist patchwork of "underground music", the pieces that frequently haunt the memories of musicians and melomaniacs alike: Mahler's 1st Symphony, Beethoven's 1st Concerto for piano, Haydn's Symphony 104, Petrushka, Shostakovich' 9th Symphony… An interesting and original composer who pays particular attention to the beauty of sound, Nikolaï Korndorf had been living in Canada since 1991 when a sudden heart attack on 30 May 2001 brutally snatched away the life of a musician whose professional, artistic and human qualities did not receive the recognition they deserved during his lifetime.
"In Honour of Alfred Schnittke (AGSCH)" Trio for violin, viola and violoncello (1986) was by coincidence written after the health problems that nearly ended the life of the great Russian composer in 1985. The title of the work refers to the letters that make the musical expression of his name possible (including the patronymic Garrievitsj): A G S C H. Each one of the three movements is marked by a particular sonorous climate based on a very complex notation. The performance of this oeuvre constitutes a formidable task for any musician.
It is composed of three movements:
I. Choral. Largo cantabile, written entirely in long note values that change gradually. II. Toccata. Prestissimo. Following a viola recitative, a kind of moto perpetuo in repeated semiquavers drives the instrumentalists to the very edge of their musical ability. III. Aria. Andante. An opening à la Bach results in an extraordinary contrapuntal construction that piles up the double stops and chromatic changes. Only the coda restores serenity and simplicity through a long silence.
This work provides irrefutable proof of the great spiritual affinity between Korndorf and Schnittke. "Passacaglia" for violoncello solo (1997) presents the interpreter with a different challenge, in this case Alexander Ivashkin, to whom the oeuvre is dedicated. The bass theme develops and is retaken by the pizzicati, thus helping the readability. Nevertheless, the composer abandons the contrapuntal language in favour of soft recitation to the beating sound of the bow for seven phrases taken from Dante's Divine Comedy. The cello subsequently takes the floor again but does so in quartertones. This hyperchromaticism fades gradually to be replaced by a counterpoint during which the instrumentalist sings along with his instrument. The artist is called upon again during the coda, where he is required to whistle the melodic line that the cello accompanies flautando. Therefore, this piece is more of a passacaglia for cello and human voice, the latter being presented in its three forms: word, song and whistling.
The 1996 "Are you ready, Brother?" Trio for piano, violin and violoncello illustrates an orientation that really came to the fore in the mid-nineties. Even though the oeuvre consists of only one movement with one single indication of tempo, we can still distinguish three parts where long sustained notes alternate with repeated notes, ending with the combination of the two in a sonorous universe at the extreme fringe of the audible. Contrary to the two previous compositions, the notation's parsimoniousness makes it tonal in heart and soul by avoiding all chromatic changes, with the exception of the final coda. Frans C. Lemaire
NIKOLAI KORNDORF (1947- 2001)
was not an easy person to deal with. Always extremely independent in opinions and direct in mind, he was able to dispute for hours or days. He was for me very similar to an ancient Greek philosopher suddenly brought into twentieth century Communist Russia. I would never be able to imagine him being old or weak. To me, he was always young, strong, and full of energy. When I saw him last, in 1998, I could hardly believe he had just turned 50 a year before. He died instantly on 30 May 2001 when he was playing football with his son.
An extremely strong personality and individual voice was always present in his compositions and indeed in everything he was doing. There are very few of his works written in the genres we would call 'standard'. He was always resistant to any inertia. Even his four symphonies are all completely unusual. The Fourth Symphony, 'Underground Music', premiered in St Petersburg in 1999, is a most original attempt to bring together very different levels and layers of music. 'I don't fit to any school or direction: I am writing a "netlenka?' (a Russian slang word for something spiritual, unusual, and therefore only fully understandable in the future), the composer used to joke. He was undoubtedly one of the most important Russian composers after Schnittke. More 'radical' young Russian composers used to call him 'our Rimsky-Korsakov'. I think it was a compliment to Korndorf. Like Rimsky-Korsakov, he used to be one of the most popular teachers at the Conservatory. Like Rimsky-Korsakov he was a great master of orchestration. Like Rimsky- Korsakov, he was an extremely educated musician. And, like Rimsky- Korsakov's, his music is very typically Russian. His compositions of the 1970s and 1980s are gigantic scores, with thousands of notes, and very intensive dynamic profile (usually two or more 'waves' of very gradual development). He was sometimes called a 'minimalist'. Rather was he a 'maximalist', trying to find new ways of expressing and developing epic and dramatic ideas, similar to Tchaikovsky, Shostakovich and Schnittke. Sometimes his works are on the edge of performers' possibilities; his String Trio is on the border of what could be physically produced on string instruments.
His latest compositions, written in Canada (where he moved to in 1991), open new horizons. They sound less complicated, and certainly less dense. They often bring together pagan or non-European rituals and esoteric Christian symbols. Less traditional in terms of structure and genre, Korndorf's music of the 1990s is also simpler on the surface, but more complex deep inside. While writing his 'Passacaglia' for solo cello he was preoccupied with great and numerous hidden possibilities of single-voiced music (like Gregorian chant or Bach's solo suites). One of the ideas of his 'Passacaglia' is an attempt to find a musical equivalent to Dante's Inferno, Purgatorio and Paradiso in microtonal, diatonic and whole- tone scale texture.
As a person, Nikolai Korndorf was a unique combination of an extreme tenderness and enormous, sometimes almost wild energy. He looked like a typical Russian 'intelligent' of the late 19th/early 20th century, with quick philosophical mind, meditative mood and resolute actions. We hear the same in his works; Nikolai Korndorf definitely found his own independent way in music,his own powerful and universal (in terms of nationality) language, still related, however, to many important traditions of Russian music and Russian philosophical and spiritual ideas.
Alexander Ivashkin