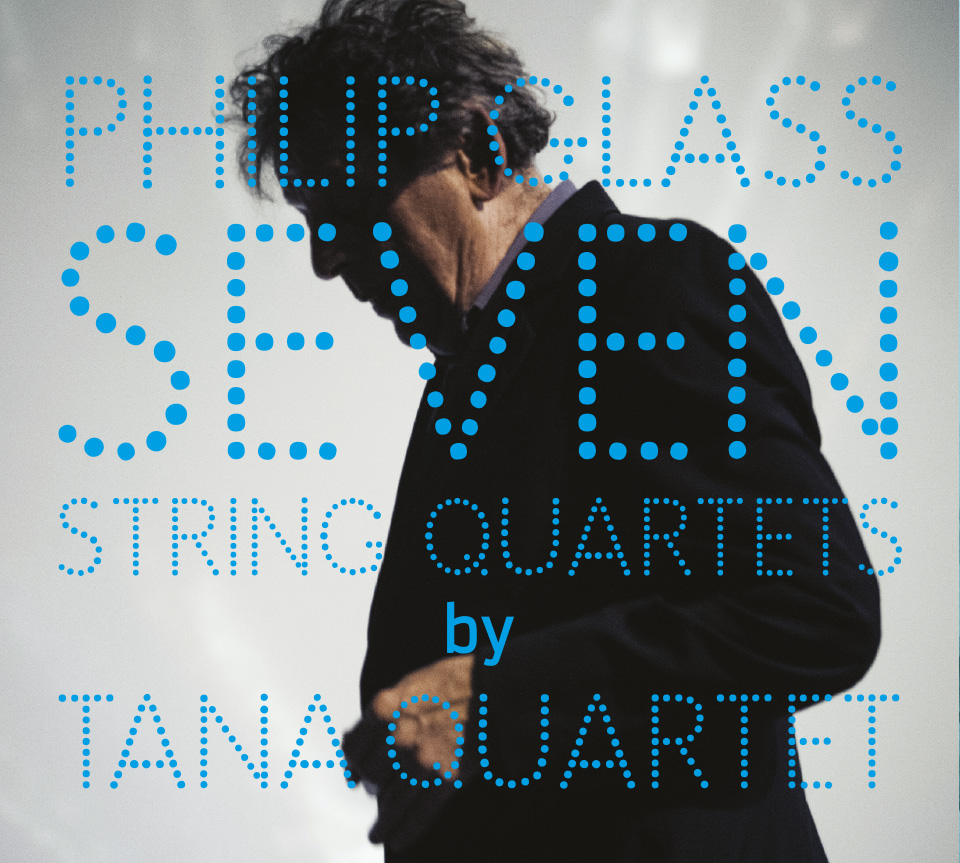 PHILIP GLASS

SEVEN STRING QUARTETS
Performer
Tana Quartet
Notes in English and French
CD
MDC 7880
28€ / order
About PHILIP GLASS

SEVEN STRING QUARTETS
QUAND LA MUSIQUE EST VANITE  
par Michel Onfray
La musique répétitive et minimale offre une issue hédoniste à la récente histoire de la musique qui a souhaité qu'elle fût confisquée par les musicologues. De la même manière que le XXe siècle a engagé la philosophie dans la direction des sorbonagres, le théâtre dans celle des théâtreux, la littérature dans celle des universitaires, la poésie dans celle des pédants, sans souci du public, il a engagé la musique dans la voie des musicologues. Or, pas plus que le gynécologue n'est le mieux placé pour parler d'amour, le musicologue ne l'est pour parler de musique. Il parle cuisine.
Ce devenir cérébral de la musique est bien dans l'ordre platonicien des choses dans lequel nous vivons depuis deux mille ans : pas de corps ou peu de corps, pas de passion ou de pulsions, pas d'instincts, de la raison raisonnable et raisonnante, du chiffre, du nombre mais surtout pas de plaisir. De l'Idée. Le plaisir est coupable…
De sorte que, longtemps, la musique a été la chasse gardée des professionnels de la profession, comme dit l'autre. Il a fallu la liberté américaine et son hédonisme pour que, tournant le dos à la vieille Europe dodécaphonique et sérialiste apparaisse un autre son – libre, vaste, grand. Celui de la musique répétitive.
Construite sur la tension entre répétition et la différence, elle propose une série d'infinies variations sur le thème du vivant, de la prolifération, de la métamorphose, du développement, de la multiplication, de la duplication,  de la mutation, de l'altération, de la transmutation. Dionysiaque, elle propose une forme qui se trouve répétée à l'identique jusqu'à ce qu'une infime variation décale, décentre, perturbe le dispositif. Sans qu'on y prenne garde, ce clinamen presque inaudible nous conduit vers un autre monde sonore. Au bout d'un long temps d'écoute, nous sommes transportés dans une autre formule sonore sans avoir perçu les modalités de ce voyage.
De la même manière que notre forme première parvient à notre forme finale et que, partis du néant dont nous provenons, nous parvenons à nouveau à ce néant dont nous venons, la pièce minimale et répétitive fait entendre le destin de chacun d'entre nous. Pièce brève, pièce longue, peu importe : nous partons de rien, nous retournons vers le rien et il ne restera rien de nous. Entre deux néants, quelques atomes associés effectuent le simulacre de la vie. Ces simulacres portent notre nom, un temps. Trois petits tours et puis s'en vont… Le cosmos, lui, bruit sans nous, comme il  a bruit sans nous, comme il bruira sans nous. En ce sens, cette musique tient le rôle que jouait jadis la Vanité en peinture : elle nous fait entendre notre destin.
Michel Onfray déconstruit les mythologies religieuses, philosophiques, sociales et politiques génératrices d'illusions. Auteur de près d'une centaine de livres  traduits dans une trentaine de pays, il a créé l'Université Populaire de Caen en 2002. Il a également créé son media indépendant en 2016 : michelonfray.com
SEPT QUESTIONS pour SEPT QUATUORS  
Megadisc Classics : A travers son opus pour quatuor à cordes, Philip Glass se révèle être un compositeur aux esthétiques et influences multiples, loin de l'image réductrice d'un créateur usant et abusant de formules répétitives faciles.
Antoine  : Entre son quatuor n°1 et son quatuor n°7, près de 60 ans d'évolutions stylistiques ont façonné un langage unique, à la fois rêveur, poétique , sérialiste, minimaliste, complexe… une vie d'artiste en recherche…
MDC : Le quatuor n°1 fut composé en 1966 et seulement crée en 1986, mais vous n'étiez même pas né !!!
Antoine : En 1966 aucun membre du Tana Quartet n'était né (rire), et en 1986 Ivan… même pas né (pensif)… Le minimalisme des matériaux thématiques renvoie volontiers à Webern et Stravinsky ; que l'on pense aux Trois pièces de Stravinsky, ainsi qu'aux Bagatelles de Webern, avec ce premier quatuor, Glass s'y réfère dans les techniques compositionnelles (atonalité, rythmique) mais y développe déjà son univers sonore. A l'image de Morton Feldman, le développement formel est déjà une signature.
Jeanne : Ce quatuor peut à lui seul démonter l'argumentaire qui classerait Glass comme un compositeur dont la musique serait simple, facile voire superficielle.
MDC : une particularité dans le Quatuor n°1 ?
Antoine : Ce quatuor est sans doute une des pages les plus expérimentales de Philip Glass. Le matériau musical d'une part, aux couleurs post weberniennes, et puis la forme : la respiration, le silence, ils dictent le rythme de cette musique. Les temps de pause sont omniprésents entre chaque petit fragment, et, surtout, ce silence de deux minutes entre les deux parties principales provoque un vertige dans lequel sont happés public et interprètes . Cette matière silencieuse voulue par Philip Glass est comme un écho au 4'33 de John Cage de 1952. Une manière de questionner l'écoute, la réception d'une oeuvre, sa consommation ou son intériorisation…
MDC : A l'opposé du premier quatuor, Glass nous démontre-t-il sa capacité à illustrer l'image par la musique dans ce deuxième quatuor ?
Ivan : Le quatuor n°2 « Company » est un quatuor dans lequel Philip Glass développe sa capacité à illustrer l'image par la musique. Formules répétitives, tonalité unique de la mineur, polyrythmie en font un quatuor d'une force rêveuse sans équivalent dans sa production de quatuor à cordes.
Jeanne : Une pièce, courte, mais d'une incroyable puissance.
MDC : Dans la musique du film Mishima, Glass nous propose un univers tout en couleurs ?
Maxime : Les matériaux thématiques sont plus complexes que dans « Company », chaque mouvements est un petit tableau en soi, illustrant un moment de la dernière journée de l'auteur Mishima avant son suicide par hara-kiri. Les contrastes musicaux sont une preuve de la grande variété des influences de Philip Glass, de son imagination et de sa faculté à associer les instrumentations pour créer une matière colorée à travers six mouvements.
MDC : Peut-on rapprocher les deux Quatuors 4 et 5 ?
Ivan : Oui, deux quatuors que l'on peut rapprocher. Ils sont le fruit du développement de l'univers  de Philip Glass, issus des quatuors n°1 et n°3.
Jeanne : Le discours musical renvoie ici plus à une construction « classique »  du quatuor à cordes : un instrument soliste  et un trio l'accompagnant. Que l'on pense à la première école de Vienne (Haydn, Beethoven, Mozart) et l'on peut imaginer que Philip Glass cherche ici à léguer au genre du quatuor à cordes deux opus qui trouvent leur place dans tout le répertoire des quatuors professionnels du monde entier.
Antoine : Les matériaux musicaux évoluent au fur et à mesure des mouvements et renvoient aux formes classiques : forme sonate, forme lied, forme rondo. Des formes qui sont les références de cette première école de Vienne. Ce sont des partitions dans lesquelles il est un véritable bonheur de plonger à chaque fois, et d'en redécouvrir de nouvelles facettes.
MDC: 6 et 7, Ici encore un duo ?
Maxime : Destinés tous les deux à la musique de scène, ces quatuors sont la dernière esthétique musicale de Philip Glass. On imagine sans peine que Glass reste influencé par toutes les expériences sonores qu'il peut croiser dans sa route musicale, et notamment la jeune génération américaine à l'image de Alex Mincek, minimaliste contemporain assumé.
MDC : Dans ces deux opus Philip Glass nous offre un langage dense et original ?
Antoine : Glass a ici un langage très dense, où chaque instrument est indépendant, à l'image sans doute des danseurs du ballet qu'ils sont censés accompagner. L'atonalité du Quatuor n°1 est ici de nouveau présente, mais Glass y ajoute un discours musical complexe, une forme musicale novatrice pour lui,  le « à travers », ce qui signifie que la forme ne revient pas à un matériau déjà exposé comme dans les formes classiques, mais qu'il suit une évolution qui lui est propre, comme un développement littéraire en somme. On ne retrouve donc pas ici les formes connues dans les précédents quatuors, mais bien un nouveau langage , déroutant à la première rencontre, mais qui démontre ici aussi que la vie d'artiste est faite d'évolutions incessantes.
Ivan : Sans aucun doute deux opus totalement originaux et qui classent Glass à part dans le monde des compositeurs contemporains.
MDC : Et ce « Happy Birthday Mr Glass » ?
Antoine : Le producteur souhaitait rendre un hommage particulier à Philip Glass. A l'occasion de cet anniversaire il nous a laissé carte blanche. En partant du canevas du cinquième quatuor, nous avons réalisé ce petit clin d'oeil très simple, une signature amicale des Tana à ce grand Monsieur de la musique d'aujourd'hui. 45 secondes pour un « Happy Birthday » unique et différent !
MDC : Charmant.
UNE TRAVERSEE DE LA VIE
par Joseph Ghosn
Qu'est-ce qui s'entend et se met à nu dans la musique de Philip Glass ?
Tout d'abord, essentiellement, une vibration qui touche certains points de votre corps et de votre esprit. Philip Glass parle tout autant au déploiement des muscles qu'aux soubresauts de l'intelligence, aux plis de la peau et aux rêveries – celles qui se tatouent, invisibles, sur l'épiderme.
Rien n'est plus vrai à l'écoute de ces sept musiques pour quatuor,  manifestes, chacune, d'une évidente mélancolie tout en déployant une immense énergie et dont on ignore si elles ont été composées pour le début ou la fin du monde et si ce n'est pas en son milieu que nous les écoutons aujourd'hui.
Écrites sur une longue période, allant des années 60 aux années 2010, elles figurent quelque chose de singulier dans la constellation de Glass. Sans doute d'abord par leur récurrence au long de la carrière du compositeur qu'elles ponctuent et fractionnent comme aucune autre pièce ou série de pièces.
Que dire d'elles exactement ? D'abord que le Quatuor n°1 virevolte, s'élève, plane mélancolique, s'oublie presque lui-même, comme signifiant dès sa naissance en 1966 les possibilités d'un ailleurs, né du minimalisme mais éloigné de lui, progressivement. Quelque chose que le Quatuor n°2 confirme, affirme par sa puissance immédiate, son temps si court qui le ferait passer presque pour quelque chose de rock avec sa fausse boucle de départ, son idée de tourbillon, son attaque pas à pas et sa façon d'obliger l'auditeur à tournoyer, se laisser envelopper. Et dès le n°3, Philip Glass se sait ailleurs :
écrite pour le film Mishima cette musique retrace la tension de l'écrivain japonais tout en grâce et retenue. Idem pour le n°4, mais avec quelque chose de plus direct, presque sensuel et physique, musclé au ralenti : rafales et strates y dessinent un écheveau de sentiments, une pâmoison de sensations qui rentrent droit au cœur, après avoir frappé en pleine face.
Et la suite alors ? La dissertation serait longue, sur l'ensemble et les détails, les développements telluriques et les retenues élégantes. Ce qui compte ce sont les sentiments qui passent et chez Philip Glass, du premier au dernier Quatuor, se lit un mouvement de traversée de la vie, de renaissances multiples dans un même corps, une même matière sans cesse rejouée – et dont le renouveau signale l'éternelle jouvence d'un compositeur précieux par ce qu'il transmet et fait naître en nous : un étrange sentiment de tristesse  joyeuse.
Joseph Ghosn est journaliste, directeur de la rédaction de Grazia. Il est notamment l'auteur d'essai sur La Monte Young et Sun Ra.
WHEN THE MUSIC IS VANITY
by Michel Onfray
Repetitive, Minimalist music offers a hedonistic way out from the recent history of music that wanted it to be confiscated by musicologists. In the same way that the 20th century encouraged philosophy in the direction of Sorbonne professors, the theatre in that of second-rate actors, literature in that of academics, poetry in that of pedants with no concern for the public, it urged music in the path of musicologists. But just as the gynecologist is not in the best position to talk about love, neither is the musicologist to talk about music. He talks about cooking.
This cerebral evolution of music is indeed in the Platonic order of things in which we have been living for two thousand years: no body or few bodies, no passion or urges, no instincts, reasonable and reasoning reason, figures, numbers but, above all, no pleasure. Ideas. Pleasure is guilty…
So that, for a long time, music was the exclusive preserve of professionals of the profession, as they say. It took American freedom and its hedonism, turning its back on the old, dodecaphonic, serialist Europe, for another sound – free, vast, great – to appear. That of repetitive music.
Built on the tension between repetition and difference, it proposes a series of infinite variations on the theme of the living, proliferation, metamorphosis, development, multiplication, duplication, mutation, alteration, transmutation. Dionysian, it proposes a form that is found repeated identically until a minuscule variation shifts, decenters, and disturbs the set-up. Without anyone taking heed, this nearly inaudible acclivity leads us towards another sound world. At the end of a long listening time, we are transported into another sound formula without having perceived the methods of this journey.
In the same way that our first form arrives at our final form and that, leaving from the nothingness from which we come, we again arrive at this nothingness from which we come, the minimal, repetitive piece lets us hear the destiny of each of us. Short piece, long piece, it's of little importance: we start from nothing, we return to nothing, and nothing will remain of us. Between the two states of nothingness, a few associated atoms effect the simulacrum of life. These simulacra bear our name for a time. As the French children's song goes: 'Three little spins and then they go away'… The cosmos hums without us, as it hummed without us and will hum without us. In this sense, this music has the role formerly played by Vanity in painting: it makes us listen to our destiny.
Michel Onfray deconstructs religious, philosophical, social and political mythologies that generate illusions. Author of nearly one hundred books translated in some thirty countries, he founded the Université Populaire of Caen in 2002. He also created his independent medium in 2016: michelonfray.com
SEVEN QUESTIONS for SEVEN QUARTETS 
Megadisc Classics: Through his oeuvre for string quartet, Philip Glass reveals himself as a composer of multiple aesthetics and influences, far from the reductive image of a creator using and abusing facile repetitive formulas.
Antoine: Between his Quartets Nos.1 and 7, nearly 60 years of stylistic evolutions have shaped a unique language: dreamy, poetic, serialist, minimalist, complex… the life of an artist searching…
MDC: The Quartet No.1 was composed in 1966 and not performed until 1986, when you weren't even born!!!
Antoine: In 1966, no member of the Tana Quartet was born (laugh), and in 1986, Ivan… was not even born (pensive)… The minimalism of the thematic materials freely refers to Webern and Stravinsky. Just think of Stravinsky's Three Pieces, as well as Webern's Bagatelles; with this First Quartet, Glass refers to them in compositional techniques (atonality, rhythmic pattern) but is already developing his sound universe. In the image of Morton Feldman, the formal development is already a signature.
Jeanne: This quartet alone can demolish the argument that would categorize Glass as a composer whose music is simple, easy or even superficial.
MDC: A particularity in the Quartet No.1?
Antoine: This quartet is doubtless one of Philip Glass's most experimental works. The musical material on the one hand, with its post-Webernian colours; and, on the other, the form: the respiration and silence dictate the rhythm of this music. Time-outs are omnipresent between each little fragment, and, above all, this two-minute silence between the two main parts provokes a dizziness in which the audience and performers are caught up. This silent matter wished by Philip Glass is like an echo of John Cage's 4'33 (1952). A way of questioning the listening and reception of a work, its consumption or its internalisation…
MDC: Unlike the First Quartet, Glass does show us his capacity to illustrate image through music in this Second Quartet.
Ivan: The Quartet No.2 Company is one in which Philip Glass develops his ability to illustrate images with music. Repetitive formulas, the sole key of A minor, and polyrhythms make this a quartet of a dreamy force without equivalent in his string quartet output.
Jeanne: A short but incredibly powerful piece.
MDC: In the music for the film Mishima, Glass offers us a universe in full color.
Maxime: The thematic materials are more complex than in Company: each movement is a small tableau in itself, illustrating a moment from the last day of author Mishima before his suicide by hara-kiri. The musical contrasts are proof of the wide variety of influences on Philip Glass, of his imagination and his ability to associate instrumentations for creating a colored matter through six movements.
MDC: Can the Quartets Nos.4 and 5 be compared?
Ivan: Yes, the two quartets can be compared. They are the fruit of the development of Philip Glass's universe, coming from the Quartets Nos.1 and 3.
Jeanne: Here, the musical discourse refers more to the 'classic' construction of the string quartet: a solo instrument and a trio accompanying it. Think of the First Vienna School (Haydn, Beethoven, Mozart) and you can imagine that here Philip Glass is seeking to bequeath to the quartet genre two works that find their place in the repertoire of professional quartets the world over.
Antoine: The musical materials evolve as the movements go on and refer to classic forms: sonata form, lied form, rondo form, forms that are the references of the First Vienna School. Every time, it's a real pleasure to plunge into these scores and discover new facets.
MDC: Numbers 6 and 7: another pair?
Maxime: Both meant as incidental music, these quartets are Philip Glass's latest musical aesthetic. We easily imagine Glass remaining influenced by all the sound experiences he could have encountered along his musical journey, and in particular the young American generation in the image of Alex Mincek, a fully assumed contemporary Minimalist.
MDC: In these two works, Philip Glass offers us a dense, original language.
Antoine: Glass uses a very dense language here, where each instrument is independent, doubtless in the image of the ballet dancers they are supposed to accompany. The atonality of Quartet No. 1 is again present, but Glass adds to it a complex musical discourse, a musical form that is innovative for him, the 'across', which signifies that the form does not come back to material already stated as in classic forms but follows a peculiar evolution, like a literary development, in sum. So we do not find here the forms known in the previous quartets but indeed a new language, initially disconcerting but which also shows here that an artist's life is made up of constant evolutions.
Ivan: Without doubt, two totally original works that classify Glass apart in the world of contemporary composers.
MDC: And this Happy Birthday Mr Glass?
Antoine: The producer wanted to pay particular tribute to Philip Glass! On the occasion of this birthday, he gave us carte blanche to do that in music. Starting from the canvas of the Fifth Quartet, we created this very simple wink/veiled reference, a friendly signature from the Tanas to this great gentleman of the music of today. Forty-five seconds for a unique and different 'Happy Birthday'!
MDC: Charming.
A CROSSING OF LIFE
by Joseph Ghosn
What is heard and lays itself bare in Philip Glass music?
First of all, essentially, a vibration that touches certain points of your body and mind. Philip Glass speaks just as much to the flexing of muscles as to jolts of intelligence, folds of the skin and reveries – those that are tattooed, invisible, on the epidermis.
Nothing is truer when listening to these seven works for quartet, each of manifest melancholy whilst displaying tremendous energy and of which we do not know whether they were composed for the beginning or the end of the world and whether it is not in its middle that we are listening to them today.
Written over a long period, spanning the 1960s to the 2010s, they represent something singular in the Glass constellation. First, doubtless, by their recurrence throughout the composer's career, which they punctuate and fraction like no other piece or series of pieces.
What exactly can be said about them? First of all, that the Quartet No.1 spins, rises, hovers melancholically, almost forgets itself, as if signifying since its birth in 1966 the possibilities of an elsewhere, born of Minimalism but gradually moving away from it. Something that the Quartet No.2 confirms, affirms by its immediate power, its very short playing time that would almost pass for something rock with its false starting loop, its idea of whirlwind, its step-by-step attack and way of obliging the listener to spin and let himself be enveloped. And as of the Third, Philip Glass knows he is elsewhere: written for the film Mishima, this music traces the tension of the Japanese writer, full of grace and restraint. The same for the Fourth, but with something more direct, almost sensual and physical, muscular, in slow motion: here, gusts and strata draw a web of feelings, a swoon of sensations that go straight to the heart, after having struck right in the face.
And so what follows? The dissertation would be long, on the whole and the details, the telluric developments and elegant self-restraint. What count are the passing feelings, and with Philip Glass, from the first quartet to the last, a movement is read of crossing life, from multiple rebirths in the same body, the same matter played over and over again, without stopping – and of which the renewal signals the eternal youth of a composer precious for what he transmits and arouses in us:
a strange feeling of joyful sadness.
Joseph Ghosn is a journalist and managing editor of Grazia. His writings include essays on La Monte Young and Sun Ra.