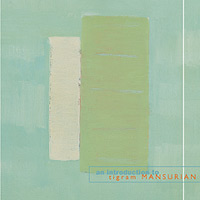 TIGRAN MANSURIAN

An introduction to Tigran Mansurian
Performer
Studio for New Music Moscow, Igor Dronov
NULL
CD
MDC 7839
20€ / order
About TIGRAN MANSURIAN

An introduction to Tigran Mansurian
MANSURIAN, Tigran Eguiajevitch
Tigran Mansurian is born in Beirut on January 27th 1939 out of Armenian parents, who return to their homeland eight years later. When the family moves to Jerevan in 1956, the adolescent Tigran is able to study music in earnest. The early years are spent under the teaching of Edward Bagdasarian. In 1960 he enters the Jerevan Conservatory from which he graduates in 1967. His first compositions (two string quartets, sonatas for piano, violin, viola and flute) remain within the confines of chamber music, with the exception of a Partita for orchestra (1965), written as a graduation piece. Not quite thirty years of age, Mansurian receives an appointment at the Conservatory : he is to teach analysis of contemporary music. He demonstrates an eclectic approach to the subject and exhibits a preference for Debussy, Stravinski and Webern. The Armenian patrimony is not totally ignored, although its role remains rather implicit. As a matter of fact, in 1979 Mansurian himself makes the following statement : "I discovered folklore rather late. Consequently, it is not an integral part of my musical consciousness." This distinguishes Mansurian from his older colleagues Aram Khatchaturian (1903-1978) and Avet Terterian (1929-1994). The former, born in Tbilissi (Georgia) out of Armenian parents, is a household name on both the Moscow and international music scene. He owes his success to Caucasian melodies or rhythms, lavishly sprinkled with the typically Russian bombastic ornaments. In other words, his compositions are just as important for Armenian music as Bizet's work was for Spain and it paves the way for a more authentic musical nationalism. This influence can be found in the work of Avet Terterian who is also born outside of Armenia, viz. in Bakou. It is here that he receives his initial musical education before moving to Jerevan in 1951. Like Khatchaturian, he has a preference for symphonic language (he composes a total of eight symphonies) but he does not lapse into superficial folkloristic music. He draws from those profound sources with typical harmonic and instrumental characteristics (sometimes even popular instruments are introduced into the orchestra).
The fact that each of these three great Armenian composers is born abroad clearly illustrates the painful Diaspora of the Armenian people, a fate shared by the founding father of Armenian ethno-musicology, Sogomon Sogomonian, better known under his priest's name Komitas (1869-1935). Komitas is born in Turkey and educated in Georgia and Berlin. Between 1899 and 1919 he collects compositions that bear witness to Armenia's thousand-year-old musical patrimony. Subsequently, he falls prey to dejection because of the genocide he has witnessed and remains unproductive for sixteen years.
An inquisitive and erudite mind , a modest man, a spontaneous admirer of other composers' work (which is rather unusual for an artist), Tigran Mansurian meticulously and frugally composes short pieces, using a minimal cast. They often refer to human relations such as friendship and admiration. He pays tribute to Chostakovitch (Concerto for cello, 1976), Schnittke (Tovem, 1979), Stravinski (1981), Russian musicologist and Stravinski-expert Mikhail Druskin (Madrigal II, 1976), Penderecki (Madrigal III, 1982), A. Volkonski (The Shadow of Sash), cello player Karina Georgian (Capriccio), Oleg Kagan and Natalia Gutman (Concerto for violin, cello and strings, 1978). As a matter of fact, a special place is reserved for the concertos in Mansurian's oeuvre (note the complete absence of symphonies in his work) : two concertos for cello (1976, 1978), one for violin (1982), one for organ (1964), Postlude, concerto for clarinet, cello and strings (1993). Like most musicians from the former Soviet Union, Mansurian also writes soundtracks, in particular the soundtrack for Paradjanov's masterpiece, Sayat Nova (The Colour of the Grenade). Appointed as professor in composition at the Erevan Conservatory in 1987, Mansurian becomes its Director in 1991.
Capriccio for solo cello This Capriccio was written for female cellist Karina Georgian, whose name is associated with the creation of numerous contemporary compositions by Mansurian, Schnittke, Arvo Pärt, etc. This composition happily combines the formal objectivity and spontaneous chromatic of Bach's Suites, with the melodic expressiveness that is so typical of Mansurian.
Five Bagatelles for violin, cello and piano (1985) Largo. Misterioso – Moderato – Allegro – Allegro energico. Largo. Tempo primo – Moderato The title of these pages is due to their brevity – their length ranges from two to four minutes – rather than to their mostly dense and serious contents. The composition details a conversation between three refined and sensitive musicians and we bear in mind that the piece was written for the couple Oleg Kagan – Natalia Gutman and female Georgian pianist Elisso Virssaladze. A touch of Stravinski is perceptible during the animated parts.
Madrigal II and Madrigal III Written for soprano, flute, cello and piano (1976) Mansurian rarely combines words with music. Even when the title seems to suggest the combination of the two (e.g. the 1966 composition Psalm, Canonical Ode, 1977, or The Speaker, 1978), the voice remains absent. The most important exceptions are a few brief melodic cycles, such as The Three Romances, written on texts by F. G. Lorca that date back to 1966 or melodies written on Armenian poems, some pieces for choir, a Miserere in 1989 and three Madrigals for voice and instrumental trio. The first Madrigal was written in 1974 and uses a text by Matevos Sarifian.
Madrigal II calls for the same instrumental formation in order to put into music an Armenian poem by Razmika Davoyana, The Moon Who Plays the Flute. Composed in 1976, this madrigal is dedicated to Mikhaïl Druskin (1905-1991) who was one of the most prominent musicologists of the Soviet period. An independent individual, this Stravinsky-expert has a substantial influence on many musicians who wish to escape the norms of the official culture. Madrigal III dates back to 1982 and is based on an Italian poem by Constant Zariana, Two Young Girls. Throughout two cadences, the flute occupies a position of favour. This independence of the instrumental voices justifies the title of "madrigal" bestowed upon these pages. It is more appropriate than the usual "melody" or the word "romance", which is typical of Russian terminology. This madrigal is dedicated to Krzystof Penderecki.
The Shadow of the Sash for nine wind instruments (1995) Adagio – Adagio (quasi indifferente) – Narrante – Vivo -Adagio This suite in five movements (performed without interruption) was written for English horn, two clarinets, two bassoons, two trumpets and two trombones, an ensemble that resembles the one required for Stravinsky's Octet, with the exception of the flute instead of the English horn. The three duos, viz. the bassoons, trumpets and trombones mark the tutti of their dryness or, in the words of the score, indifference. Only the English horn – and how could it be otherwise ? – has the right to add a melancholic note. The fact that Stravinsky's name has been mentioned several times does not mean that Mansurian is a follower of this great composer. One could describe it as loyalty, which is all the more remarkable because the USSR considers the deported composer of Le Sacre to be nothing more than a decadent bourgeois traitor. His music remains prohibited until 1962, when Khrennikov makes a politically motivated turn a round in inviting Stravinski to celebrate his eightieth birthday in his native Russia. Certain West European musicians adopt pretty much the same stance. Shortly after the war, Stravinsky's neo-classicism is boycotted by the Leibowitz-Boulez clan and this tiny Parisian circle persists in its censorship until the collapse of the Berlin Wall. That is why it is so interesting to discover in Mansurian's otherwise very personal music, a sonorous and stylistic reflection of his admiration for a man who, throughout the diversity of his oeuvre, will always remain a dominant factor in the aesthetic renewal of the twentieth century.
The initial and closing movements in The Shadow of the Sash are restricted to some twenty bars that constitute the prelude and the epilogue to three central and more elaborate movements that clearly demonstrate Mansurian's impressive writing skills.
This suite is dedicated to Andrej Volkonski who was a pioneer of modernity in the fifties and sixties, when such a step was not without danger. He is expelled from the Moscow Conservatory in 1954 for introducing music by Stravinski and Schönberg and as from 1964, the execution of his work is prohibited. Finally, in 1973, Volkonski receives permission to emigrate. In recent years, thanks to his being attached to the Belaieff Foundation in Frankfurt, he has been able to help many composers of the former Soviet Union by having controversial compositions published in the Belaieff Editions. Frans C. Lemaire