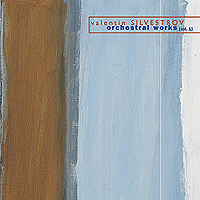 VALENTIN SILVESTROV

Orchestral Works vol. 1
Performer
Andrej Borejko, Ivan Sokolov, Ural Philharmonic
NULL
CD
MDC 7837
20€ / order
About VALENTIN SILVESTROV

Orchestral Works vol. 1
SILVESTROV, Valentin Vassilievitch
Kiev, september 30th 1937
Having studied a couple of years to become a constructional engineer, Silvestrov enrols in courses taught by Lyatochinski and Revoutski at the Kiev Conservatory in 1958. When he graduates six years later, he already has various compositions to his credit that are remarkable for their originality,A Piano quintet and a Quartetto piccolo of nearly Webernian concision, a Trio for flute, trumpet and celesta (1962), a First Symphony (1963),Mysterium for alto flute and six groups of percussion (the composition is dedicated to S. Gazzelloni, famous interpreter of the most advanced European musicians)(1964), Monodia for piano and orchestra and Spectre for chamber orchestra (1965). His style is akin to the modernism that has its origins in Western Europe. In 1961,Valentin Silvestrov and his friend Leonid Grabovski send in their entries for K.H. Stockhausen's seminar in Darmstadt, but the regime, ever vigilant, denies them a visa.Grabovski makes up for the refusal by translating the works of H. Jelinek, E. Krenek and K.H. Stockhausen in Ukrainian. As an internationally acknowledged composer, especially by the Koussevitsky Foundation in Boston and Gaudeamus in Amsterdam, and as a composer who had his work played in P. Boulez' Musical Domain( be it only once), Silvestrov's Third Symphony "Eschatophony", was even hosted and created in 1968 in Darmstadt under the direction of Bruno Maderna.Theodore Adorno welcomed an extraordinarily gifted musician and he refuted the objections of those purists who deem Silvestrov's work too expressive. Silvestrov's success irritates Moscow which is why the regime brands him as the leading light of a Ukrainian avantgardist movement. In December of 1968, Moscow uses a year-old interview with Younost, an official publication aimed at Russian youths, as a pretext to attack the "Kiev group" in December of 1968. Apart from these problems, Silvestrov ponders over the meaning of his music, the relation between the past, viz. the culture inscribed in memory, and the spontaneous,magical, primitive and eternal dimension of inspiration.This period of reflection ultimately results in a score entitled Drama. It is what one might call a dialectical debate, subdivided into three distinct parts: a sonata for violin, a sonata for cello and a trio which combines these two instruments with the piano.The drama announced in the title is not restricted to the musical level. The performers are required to lend a scenic dimension to the piece through their attitude and gestures.These represent the conflicting phases of thesis versus antithesis, cultural fact versus unforeseen and magical event, text versus context. Silvestrov is convinced that the key to thesis lies in the past, as demonstrated by the titles of the compositions that follow: Music in classical style, Pieces for children in classical style, a First Quartet (1974), which, in fact, is a long Adagio in G major. This is where Silvestrov's music takes a highly interesting and distinctive turn. It becomes impregnated with slow expressive confidence and exhibits greatly prolonged melodic lines.Numerous instrumental, vocal and orchestral compositions provide different musical translations of this neoromanticism: Meditation for cello and chamber orchestra (1972), dedicated to Rostropovitch, a Cantata (*1) written on texts by F. Tioutchev and A. Blok (1973), a long melodic cycle, Silent Songs (1974/77), a Second Sonata for piano (1975), the Fourth Symphony (1976), Serenade for strings and Cantata for a cappella choir (*1), both 1977, six Simple Songs written between 1974 and 1981, Kitsch Music for piano (1977), Poem in memoriam Lyatochinski (1978), Forest Music for soprano, horn and piano (1977/81), Third Sonata for piano (1979), the Fifth Symphony (1982), Postlude for solo violin (1981), Postlude DSCH for soprano, violin, cello and piano (1981), Sonata for cello and piano (1983), Postlude for piano and orchestra (1984), a third cycle of melodies, Degrees for soprano and piano (1982), the stunning beauty of which reminds us of Mahler, Ode to a Nightingale(*1) (1983), written on Keats' famous text, Exegi Monumentum, a symphony for baritone and orchestra based on Pushkin (1985/87), a Second Quartet in 1988. In November of 1993, one of his latest compositions is performed in Berlin :Dedication, a concerto for violin dedicated to Gidon Kremer. Dating back to the same period,we could also mention Metamusic for piano and orchestra and a Cantata in two parts entitled Diptych (*1), written on the text of Our Father and on Testament, the famous poem by national Ukrainian author Taras Chevtchenko (1814-1861). Thus, the careful observer will distinguish three periods in Silvestrov's compositional endeavours : the years of exploration and adherence to post-serial modernism, the interrogation as to the sense and the authenticity of such an orientation (1968-1976), and, finally, the resulting prosperity of a language that transforms every composition into an epilogue, a postlude to music history, in particular a postlude to the form music history as it is engraved in capital letters in the memory of contemporary musicians and listeners.The three compositions recorded on this CD will most certainly testify to that effect.
Monodia (1965) This music from Silvestrov's modernistic period bears a title which might seem contradictory with regard to the complex writing adopted by the composer : a dodecaphonic theme, pointillist Klangfarben, aleatoric episodes, its form and the sounds used by the composer are typical of the sixties. The meaning of the title probably lies within the role reserved for the piano, whose monologue traverses the orchestra's instrumental abundance like a long recitative.Two relatively short pieces respectively constitute the intro and outro for a long and slow movement. The short pieces remain true to the form of the sonata with its two themes, one dodecaphonic and the other somewhat jazzy.The central movement, which is more adventurous, accumulates sonorous elements that are simultaneously mysterious, poetic and threatening. The form is diluted into aleatoric extremes.The piano seems to flounder and, silently, listen to the improvised rhythms of the percussion and wood-wind instruments. In comparison, the end appears eloquent, scintillating and spectral (Spectre is the title of a piece dating back to the same period). Does this mean that Silvestrov is one of its precursors ? Not so much in the physical-acoustic implications than in the search to recover the cosmic force of sound, a quest which Silvestrov shares with G. Scelsi. The most ambitious work of this period, the Symphony "Eschatophonia", is well received in Darmstadt and by Th. Adorno, the philosopher of "the veracity of art".Nevertheless, this success does not withhold Silvestrov from questioning the degree of truthfulness of his own work. He attaches his wagon to the train of modernity, but, like Schnittke, it does not take him long to realise that he is a prisoner of modernity's narrow path where some composers make an even bigger nuisance of themselves than others.This is why he, too, prefers to alight from the train and find his own path on foot.This decision results in the triptych Drama (1970/71) and in the elaboration of a new language – a metalanguage – that transcends the existing systems and fulfils the composer's most heartfelt feelings. They are expressed in, successively, the First String quartet (1974), the Second Sonata (1975) and the Fourth Symphony in particular. These three compositions are to be played without interruption, a characteristic that will mark practically all of Silvestrov's work as of this moment : music is not a game to be played in episodes, it is not a work of architecture to be subdivided in specific spaces. It consists of a continuum that forms a tight unit, it is a long meditation that drifts on the wings of melodic and harmonic tension.The April 1990 issue of Sovietskaja Muzyka features an official declaration by Valentin Silvestrov that captures the essence of his music to perfection : "My music is based purely on intuition. During the creative process, it is in need of beauty. Its process of formation must be marked with melodic tension from beginning to end. Its form must be constructed like a melody." Silvestrov's musical journey started in the domain of pointillism, but along the way he restores the lines and the melody to their original function, one which the serialists all too often reserved for the dots. In restoring the melody to its allpowerful position, Silvestrov's music recovers the melody's exaltations and the incandescence of its power. Like a river flowing into the sea, the waves of this music travel towards the sea of silence in consummate accomplishment.This musical eschatology (*2)this eschatophony, can be discerned in other titles such as Metamusic, Postludium (Postlude) or Postsinfonia.When music transcends the past without forsaking it, when it engages in introspection in order to define the ultimate goal of the musical culture with which we are impregnated (rather than rejecting it with hopes of making it obsolete), we should classify it as what we would nowadays call post-modernism : to restore subjectivity to inspiration, to forsake the auto-censorship of systems and modes, to disregard the twiddle bits of modernity and the propagandist language of its justifications in order to rediscover Adorno's cherished "veracity of art".
Fourth Symphony for strings and brass instruments (1976) The fact that Silvestrov restores subjectivity to inspiration is beautifully illustrated by this Fourth Symphony that presents itself as an extensive orchestral monologue whose successive episodes simultaneously avoid the typical post- Chostakovitch melodrama and Pärt or Kancheli's dreamy stillness. Nevertheless, the oeuvre does convey a similar "lethargy of time", the slow nostalgic reflection on an impossible whole. Silvestrov states that "music is not a philosophy, a world view, a Weltanschaung. Above all, it is a chant, a song the world sings about itself, it is the musical testimony to life." Thus, the pathetic quest for a metaphysical meaning and a tragic mysticism (in the words of Silvestrov's friend of Ukrainian origin, composer and conductor Virko Baley (*1)) is magnified in this Fourth Symphony which, in the eighties, will cause Silvestrov to adopt a final form, viz. that of the Postludium, the Postsinfonia (Fifth Symphony) and that of the Metamusic. It is "after-music", "end-music", music from beyond and not introductory music. It is a unifying synthesis and not a mosaic, it is the music of an affect who is swept off his feet and does not look back, it is not the music of an intellectual who constantly seeks to correct himself.
Postlude for piano and orchestra (1984) Used since 1979 for the finale of the Third Sonata, the term Postludium resurfaces in 1981 in two other compositions (one for solo violin, the other, as with Postlude DSCH, as a homage to Chostakovitch for soprano and trio) and again in 1983 in a piece for cello and piano. In 1984, it appears in its most important form in this Postludium for piano and orchestra which carries the aestheticism of the Fourth and Fifth Symphonies to its highest level of accomplishment and exaltation. Silvestrov no longer feels the need to commence a composition at the beginning since the contemporary listener has become a memory bank of the music he has already heard.What matters is the accomplishment of the oeuvre in its final estuary.What has already been expressed, tersely and concisely, in the coda of traditional forms, comes to cover the entire composition, with a total running time of up to forty-five minutes, as is the case with the Fifth Symphony. In other words, Silvestrov's symphonies are to be perceived as the musical and eschatological coda of great implicit symphonies that silently exist within the auditor's conscience, but which have not yet been completed. Room remains for an epilogue, a postlude that is worthy of this symphony of symphonies, an ending which both postulates and glorifies its meaning. The fact that the references to this dreamlike symphony are often of the Mahlerian variety is made obvious by the hardly disguised reminders : recitatives for trombone, melodic patterns with declining profiles, arpeggio-accompaniment, prolonged descents toward silence.The listener who allows himself to be swept away will discover, beyond the boundaries of that which has already been mentioned, how the singular power of a metamusic never heard before, captures new emotional dimensions and provides new evidence of beauty.
Frans C Lemaire
(*1) Features on a Megadisc-CD (MDC 7842), released in 1997, recorded in Kiev with the collaboration of both the Kiev Camerata Ensemble, conducted by Virko Baley, and the Dumka national choir, conducted by Evgueni Savchuk. (*2) Eschatology: according to etymological sources, it is the discourse on "the ultimate". Eschatology concerns itself with the final individual or collective goals. Silvestrov is in search of a musical equivalent, viz. an Eschatophony. It may even be the only possible eschatology, since music does not operate like a semantic language, it can replace a hollow flood of words by its meta-language, nonsensical but loaded with meaning. (*3) The fact that certain compositions that have refrained from any modernity whatsoever, have been well received by music lovers, arouses the anger of a mainly French-speaking audience. They consider every Russian musician to be an epigone of Chostakovitch (whose music was described in 1996 by P. Boulez as "fast food of inferior quality" or as "the Telemann or Méhul of the twentieth century").The oracle's words give short shrift to important composers such as Sofia Goubaidulina ("very disputable success") and V. Silvestrov ("minimalist") without further justification. This justification can be found, however, in J.N. von der Weid's Music of the Twentieth Century, a pocket with a wide circulation (Hachette Pluriel, Paris, 1997). It features eight full pages on a spectral epigone of a musician whose music is performed less than once in every 10,000 concerts in countries such as Germany or Great Britain. The situation in France is different of course. Seized by a premonition with regard to the sectarianism that is to emerge a decade later, Silvestrov already formulates his personal answer by writing Exegi Monumentum (1985/87). In this composition, he refutes the criticism by using excerpts from a text by Pushkin : "Do not worry about prejudice and do not argue against stupidity."