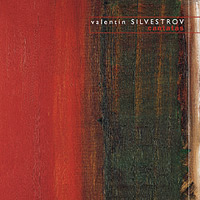 VALENTIN SILVESTROV

Cantatas
Performer
Dumka, Evgen Savchuk, Kiev Camerata, Virko Baley
NULL
CD
MDC 7842
20€ / order
About VALENTIN SILVESTROV

Cantatas
Valentin Silvestrov Cantatas
SILVESTROV, Valentin Vassilievitch (Kiev, 30 September 1937)
Having studied a couple of years to become a constructional engineer, Silvestrov enrols in courses taught by Lyatochinski and Revoutski at the Kiev Conservatory in 1958. When he graduates six years later, he already has various compositions to his credit that are remarkable for their originality, A Quintet with piano and a Quartetto piccolo of nearly Webernian concision, a Trio (1962), a First Symphony (1963), Mysterium for alto flute and six groups of percussion (1964). His style is akin to serialism but he pays particular attention to the readability of the melodic line. In fact, he does not hesitate to use tonality and atonality, modal writing, serial technique and sonorous textures as structural elements. Moscow brands Leonid Grabovski and Silvestrov as the leading lights of an avantgardist movement. Silvestrov in particular is considered to be a nuisance because of an interview in Younost (Youth). Eschatophonie, his third and full-length symphony, was ordered by the Koussevitski Foundation. Performed in Darmstadt in June of 1968 under the direction of Bruno Maderna, it entices Adorno into lavishing praise on Silvestrov. He labels the latter as an extraordinarily gifted man and refuses to parrot those purists who deem Silvestrov's work too expressive. Despite this success, the following years see him struggling through a crisis during which he abandons himself to a long period of reflection. He ponders over the meaning of his music, the relation between the past and all things which escape the mechanism of time. In other words, he dwells on the relation between historical culture on the one hand and the magical, primitive and perpetual dimension of inspiration on the other. This prolonged period of reflection ultimately leads to a composition entitled Drama. It is what one might call a dialectical debate, subdivided into three distinct parts: a sonata for violin, a sonata for cello and a trio which combines these two instruments with the piano. The drama announced in the title is not restricted to the musical level. The executants are required to lend a scenic dimension to the piece through their attitude and gestures. These represent the successive phases of the conflict between thesis and antithesis. From this moment on, Silvestrov is convinced that the key to thesis lies in the past, as demonstrated by the titles of the compositions that follow: Music in the old style, Pieces for children in the old style, a First Quartet, (1974), which, in fact, is nothing more than a simple Adagio in G major, saturated with classicism. This is where Silvestrov's music takes a highly interesting and distinctive turn. It becomes impregnated with a slow expressive confidence and exhibits greatly prolonged melodic lines in a post romantic climate that is often reminiscent of Gustav Mahler. Different instrumental and orchestral compositions provide different musical translations of this highly distinctive quality: Meditations for cello and chamber orchestra (1972), dedicated to Rostropovitch, Second Sonata for piano (1975), Fourth Symphony, (1976), Serenade for strings (1977), the remarkable vocal cycle Silent Songs, 1974/1977) that provides nearly two hours of music, Poem in memoriam Lyatochinski !1978), Third Sonata for piano (1979), two Symphonies (1976 and 1982), Postlude for solo violin (1981), Postlude DSCH for soprano, violin, cello and piano (1981), Sonata for cello and piano (1983), Postlude for piano and orchestra (1984), a second cycle of melodies, Stufen (Steps) for soprano and piano (1982), the stunning beauty of which reminds us of Mahler, a Second Quartet in 1988. One of his most recent compositions, Dedication, a Concerto for violin dedicated to Gidon Kremer, was first performed in Berlin in November of 1993. Metamusic for piano and orchestra stems from the same period. There are those who would like to link these compositions to neoromanticism or neotraditionalism. But what do these voluntarily pejorative terms matter, when the compositions in question reveal themselves to be nothing less than yet another tribute to musical beauty ?
The April 1990 issue of Sovietskaïa Muzyka features an official declaration by Valentin Silvestrov that captures the essence of his music to perfection: "My music is based purely on intuition. During the creative process, it is in need of beauty. Its process of formation must be marked with melodic tension from beginning to end. Its form must be constructed like a melody." Silvestrov's music bestows upon the melody its sensuous exaltations and the incandescence of its power.
The vocal and choral compositions Less renowned than the instrumental or symphonic compositions or the concertos for soloists, the pieces that call upon the human voice start dotting his oeuvre as of 1973:
1973 Cantata for soprano and chamber orchestra written on texts by Fiodor Tioutchev and Alexander Blok. 1974/77 Stille Lieder (Silent Songs), 24 calm, almost whispered melodies for baritone and piano (poems by Baratynski, Keats, Pouchkine, Chevtchenko, Shelley, Lermontov, Tioutchev, Essenine, Mandelstam, Youkovski). 1974/81 Einfache Lieder (Simple Songs), six "simple" melodies for middle voice and piano (poems by Mandelstam, Pouchkine, Anonymous). 1977 Cantata for acappella choir (text by T. Chevtchenko). 1977/81 Waldmusik (Forest Music) for soprano, horn and piano (text by G. Aïgi). 1981 Postludium DSCH for soprano and clavier trio. 1982 Stufen (Steps), ten melodies for soprano and piano (poems by Baratynski, Keats, Mandelstam, Pouchkine, Sologub and Tioutchev). 1983 Ode to the Nightingale for soprano, piano and chamber orchestra (text by John Keats). 1985/87 Exegi Momentum, symphony for baritone and orchestra (text by Pouchkine). 1995 Diptych, Cantata consisting of two parts, for acappella choir (the second part is written on Taras Chevtchenko's famous poem Testament).
This new recording is the first one to offer a complete panorama of the vocal and choral production. Silvestrov covers the creative process both in its entirety and in all its diversity: Cantatas for vocal soloists and chamber orchestra, acappella choirs.
The 1973 Cantata on texts by Fiodor Tioutchev and Alexander Blok follows the end of Silvestrov's first creative period during which the influence of Anton Webern is still perceptible but does not create excessive segmentation. Fiodor Tioutchev is a mid-nineteenth century poet who leans towards romanticism:
As the Ocean embraces the orbit of the world Illusions besiege man in vast numbers We are navigating without a compass, without sails Between two burning chasms
The text by Alexander Blok evokes analogous feelings of peregrination which are accentuated by the rhythmical tapping of the hand on the framework of the harp and the harpsichord. A purely instrumental epilogue concludes the two vocal parts. The epilogue gives the impression of being embedded in the vocal parts, which are intended for a chamber orchestra consisting of a flute and an English horn, two horns, a harpsichord and a harp, a percussion section restricted to the bells and the kettledrums and a string section without violins but where the violas are subdivided into four parts.
Ode to the Nightingale is both the longest and the most famous of the Odes which John Keats (1795-1821) wrote shortly before his demise. The Russian translation at hand was provided by E. Vitkovski. The fact that Silvestrov decided upon Keats is very significant, as the poet evokes the theme of the struggle of art and beauty, such as light, against death and darkness. This time, the orchestra is completed with all the wind instruments. Important roles are reserved for the piano and the harp. Naturally this also goes for the flute as it is the songbird's alter ego par excellence.
The 1977 Cantata was written for acappella choir and uses excerpts from poems by Taras Chevtchenko (1814-1861), poet and national hero of the Ukraine. As an emancipated serf, he is simultaneously the father of Ukrainian literature and one of the driving powers behind the growing national awareness. Having founded a guild to fight against serfdom and to demand social equality, he is deported to Siberia in 1847, where he is held captive for ten long years. The first excerpt stems from Kobzar, a poem of popular inspiration. It was written in 1839 during Chevtchenko's student days as a painter in Saint Petersburg. It is a melancholic evocation of his thoughts that keep wandering off to his natal country. The second part is based upon the 1845 poem Caucasus, a poem pregnant with drama which simultaneously evokes the magnificent Caucasian landscape, the torment of Prometheus and the contrast between patriotic feelings and the rule of the Tsarist Empire. One single descending chromatic motif is present throughout the Cantata, thus impregnating it with an obsessive melancholia.
The 1995 Diptych was also written for acappella choir, using eight voices which are occasionally broken down into several others. Consequently, as many as 80 vocalists (for this particular recording) may be needed. Silvestrov frequently writes using thirds and this quickly becomes obvious in both parts. The first is based upon a couple of lines from the Lord's Prayer, the second on Testament, one of Taras Chevtchenko's last poems. For over a century, Testament was the actual national anthem of the Ukraine. The poet feels that the end is near and he expresses his wish to be laid to rest in his beloved Ukraine, on the crest of a hill so he can admire the landscape and listen to the waters of the Dniepr. But his death should be the long awaited signal to break the chains and slay the tyrant. Thus, his memory will live on forever in renewed freedom. This scenario did become reality and Taras Chevtchenko will always be remembered as the national poet par excellence.
Frans Lemaire